Video content has become more than necessary for businesses to attract prospective customers and generate more leads.
In 2023, online video is anticipated to account for 82.5% of the website traffic, making it one of the most crucial content types over the web.
In addition, 92% of marketers believe videos to be a crucial part of their marketing strategy, as 64% of global customers make purchasing decisions after going through the brand's social videos.
These statistics only show the growing importance of online video content in the future.
However, while consuming video content is easy, producing one is not. It needs plenty of research and time. This is where AI-based video generators come into play.
AI video generators use Artificial Intelligence (AI) algorithms to simplify and automate the process of generating high-quality and branded videos. As a result, they help save the marketing team's time and effort and the business's money.
This article will examine the best AI video generators to automate your business's video creation process. But before that, let's quickly look at the top features you must look for in an AI video generator.
What Features to Look Into an AI Video Generator
Regardless of your specific requirements, here are the top features you must consider when looking for an ideal AI video generator.
Access the video output quality concerning details like video resolution, color accuracy, object consistency, and aspect ratios.
Access the control, flexibility, and customization level, like adding more content and adjusting the style that suits your brand requirements.
Determine whether the tool offers third-party integrations with other platforms and software to enhance productivity.
Determine the tool's user interface and ease of use to reduce the learning curve and time and simplify the video creation process.
Access if the tool provider offers the necessary support and documentation through tutorials, blogs, and support channels, allowing you to address issues easily.
Now, let's look at the best AI video generators available in the market.
1. Synthesia – AI Video Creation Platform
Synthesia is an AI video creation platform that helps convert text into speech or video in more than 120 languages.
It lets you choose from over 125 diverse AI avatars to include in your videos, making them look more human-like, natural, and user-friendly.
Synthesia is one of the most intuitive and beginner-friendly video creation tools with an intuitive interface.
It doesn't require enhanced video skills or complex video equipment and instead allows you to generate professional videos in a matter of minutes.
Synthesia Features
Here are the crucial features of this AI video generator.
The AI avatars make your videos more diverse and inclusive.
Provides the flexibility to create your own custom AI avatar per your brand needs.
Ensure consistent and professional quality voiceovers that help save time and resources on updates and edits.
Promote team collaboration, aligning every member and stakeholder on the same page to speed up production.
Provides 60+ pre-designed video templates.
Some top global companies, including BBC, Amazon, Accenture, and Reuters, use Synthesia for their video generation process.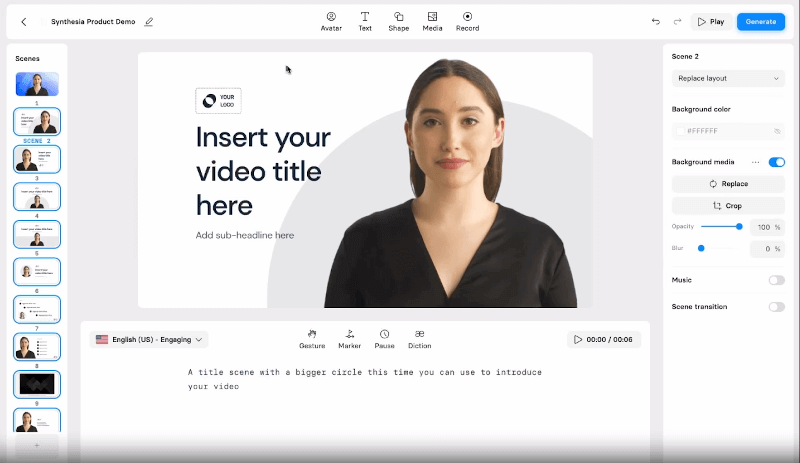 2. Pictory – Video Marketing Made Easy
Pictory is an AI video creation tool that helps you create sharable and concise branded videos from long-form content. It's one of the top-rated, easy, and cost-effective video generators that doesn't require downloading software or enhanced technical video editing skills.
Pictory Features
Here are a few crucial features of Pictory.
Automatically extracts key points and data hidden within your Teams, Zoom, and Webinar recordings, perfect for sharing across your brand's social media platforms.
Turns text or scripts into high-conversion and quality videos or video sales letters filled with music, stock image, and voiceovers in minutes.
Helps boost search engine rankings for blogs by converting them into engaging videos.
Adds captions to your videos quickly and accurately, increasing reach and eliminating the need for outsourcing.
Thus, it's a perfect AI video creation tool for bloggers, marketers, YouTubers, agencies, social media managers, coaches, educators, and course creators to convert text into quick videos.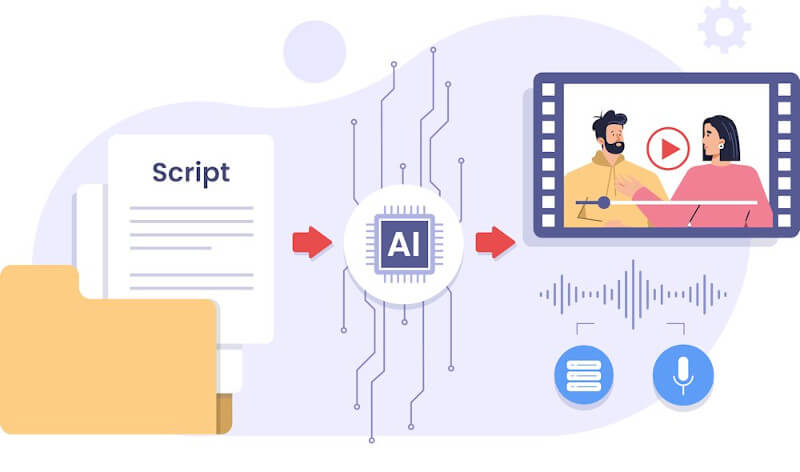 3. InVideo – Online Video Editor
InVideo provides read-made templates to simplify video creation and generation to post high-quality videos.
It provides over 5000+ professionally-designed templates, suitable for multiple use cases. In addition, you can customize these templates with an intuitive drag-and-drop action to make videos best suited for your brand image.
InVideo Features
Some of the best InVideo features include.
Single-click customization shortcuts that help perform actions, like removing product page backgrounds, adding stock music and image, and applying brand fonts and colors.
Boost productivity by converting blogs into videos and generating video scripts from simple text prompts.
Provides access to 8m+ stock images and media from the editor.
Convert text to speech to add voiceovers to your videos.
Enable team collaboration by adding your team members to the AI tool and keep everyone on the same page.
Thus, using InVideo will help you boost your social media presence and branding, create monetizable video assets to generate more income, and optimize workflow to boost speed and save time.
Moreover, it provides round-the-clock, 24/7 customer support, Instagram and YouTube video tutorials, support from a Facebook community, and informative Udemy courses to leverage power-pack support whenever needed.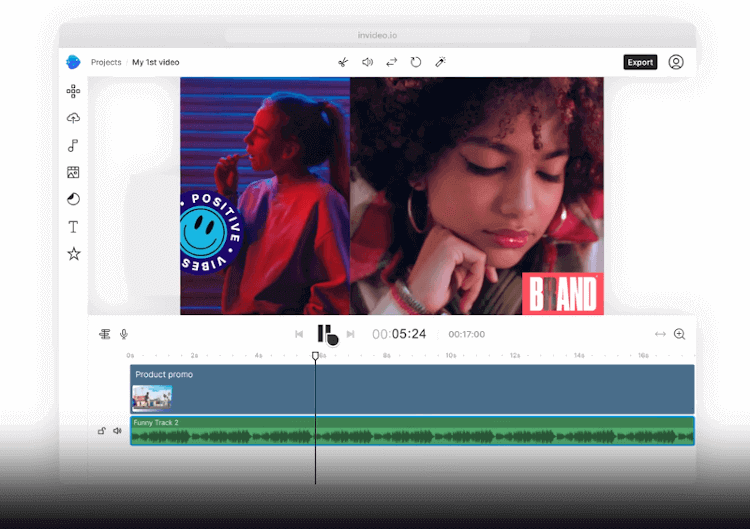 4. DeepBrain AI – Create Video Using Basic Text
DeepBrain AI is a text-to-speech AI video generator that helps you create realistic videos using AI avatars using basic text.
You can choose from 100 fully-licensed AI avatars or custom AI avatars to create brand videos that suit your niche.
Whether you wish to create how-to videos or tutorials, training videos, marketing videos, or news videos, these AI avatars add a personal touch to all video types.
DeepBrain AI Features
Here are the DeepBrain AI features that can entice you to choose this AI video generator tool.
Supports over 500 global languages, including English, German, Hindi, Chinese, Spanish, Arabic, French, and more.
Provides pre-built video templates for different video types and social media video templates for YouTube, Instagram, and TikTok.
Provides a hassle-free online video editor that provides an easy-to-use interface with features like soundtracks and closed captions.
Thus, DeepBrain AI is a time-efficient and cost-efficient video generator tool that makes the entire video creation and production process a breeze.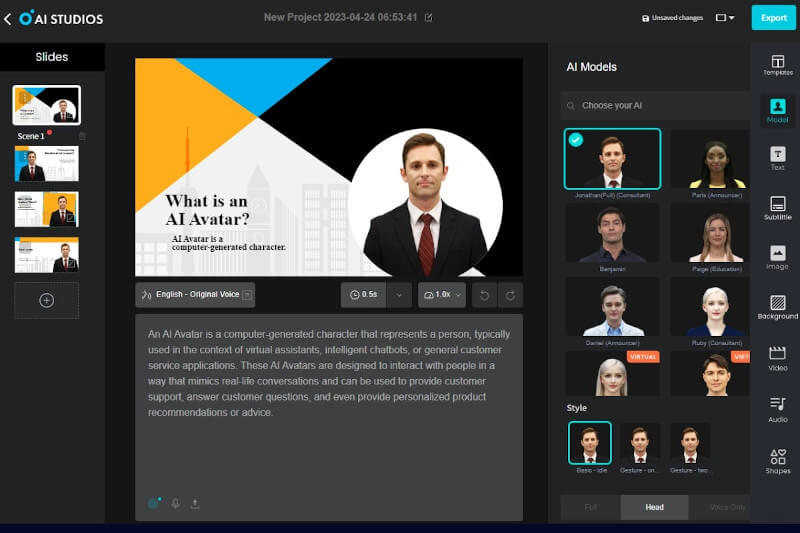 5. Elai – Create Videos From Text
Elai is an AI video generator that lets you generate customized AI videos with a video presenter without using equipment like a camera, a green screen, or a huge studio.
It's a top-rated AI video platform, providing 25+ AI avatars to boost viewer engagement and conversions for use cases like learning and development, marketing, and news and media.
Elai Features
Features of the Elai AI video platform include.
Video cloning by closing your own voice for the AI avatar to narrate the text.
Automated translations that help you translate videos into 75 global languages.
Convert blogs and articles into narrated videos directly from the article link or URL.
Convert PPTs or PDFs to videos.
Single-Sign-On (SSO) allows you to access multiple applications with a single login credential.
Thus, Elai helps you create professional AI videos that boost your business engagement and take its reach to the next level.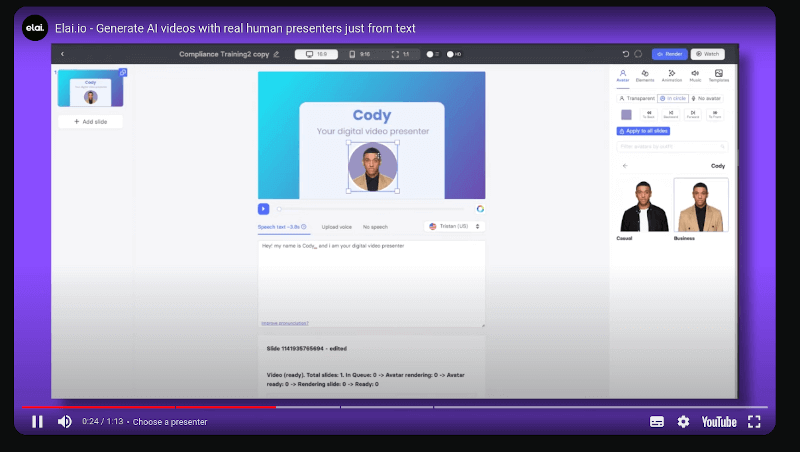 Conclusion
Artificial Intelligence is transforming several sectors and business processes, and the adoption of AI-based tools is only bound to increase.
If you're not leveraging AI to generate high-quality and professional business videos from repurposing your brand content, your competitors definitely are.
So, check out the top AI video generators mentioned above to accelerate, automate, and scale video production for your business.