One of the beautiful things about the Linux operating system is the availability of vast software applications for various tasks. Whether is it word processing, photo editing, remote access, software development, or streaming music you will certainly get an application that will help you achieve your goals.
In our guide, we highlight some of the popular and most dependable software applications you can find that will simplify your work on Linux.
1. GIMP
GIMP, short for GNU Image Manipulation Program, is a cross-platform photo editing and image manipulation software. It comes packed with advanced tools for transcoding between different file formats, free-form drawing, and other specialized graphic design tasks.
GIMP has been compared to Photoshop in many aspects. In fact, GIMP can do nearly every image editing operation that Photoshop can do, although Photoshop is considered superior by far.
Key Features include:
Support for various files such as jpeg, pdf, pcx, psd, tiff gif, bmp, and others.
Full suite of painting tools such as Pencil, Brush, Airbrush, Clone, etc.
Advanced manipulation techniques using layers and channels.
Powerful blend tool and gradient color.
Highly extensible using 100+ plugins.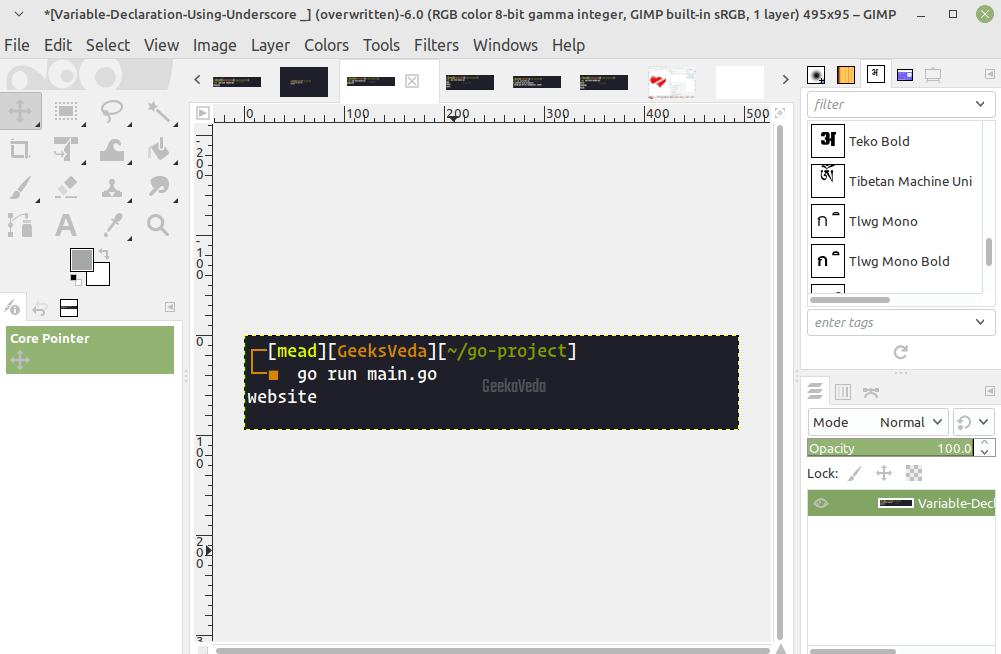 2. Inkscape
Inkscape is a free and open-source cross-platform vector graphics editor for creating vector images mostly in the SVG (Scalable Vector Graphics) format. It ships with a rich set of features for vector design and technical illustration such as logos, clip art, and typography to mention a few.
Inkscape uses vector graphics to create artwork. Vector graphics are defined using complex mathematical equations, curves, and lines and provide sharp printouts and professionally printed displays, unlike pixels which are mapped out using tiny colored squares.
Key Features include:
Object creation using shape tools, text tools, and embedded bitmaps.
Rendering
Support for various file formats such as SVG, PNG, EPS, and many more.
Object manipulation using transformations such as rotate, skew, and scale.
Fill and Stroke using the color picker and gradient tool.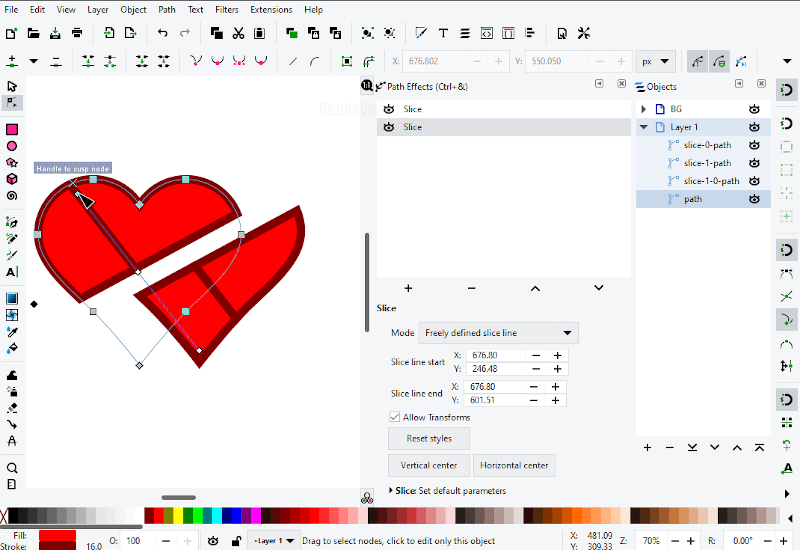 3. Audacity
Audacity is a free and open-source audio recording software that lets you record and edit audio recordings. The application can copy, cut, splice, and mix audio files such as mp3, WAV, or Ogg and give the desired output.
It also provides a myriad of other effects such as normalization, fading in and out, exporting and importing audio files, etc.
Key Features include:
Ability to record live audio using a mixer or microphone.
Support for a wide range of audio formats including M4A/M4R (AAC), MP3, AC3, WAV, and many more.
Edit several audio files including MP3, Ogg, FLAC, AIFF, and WAV.
Change the pitch or speed of an audio recording.
Editing techniques such as copying, pasting, slicing, and mixing sounds.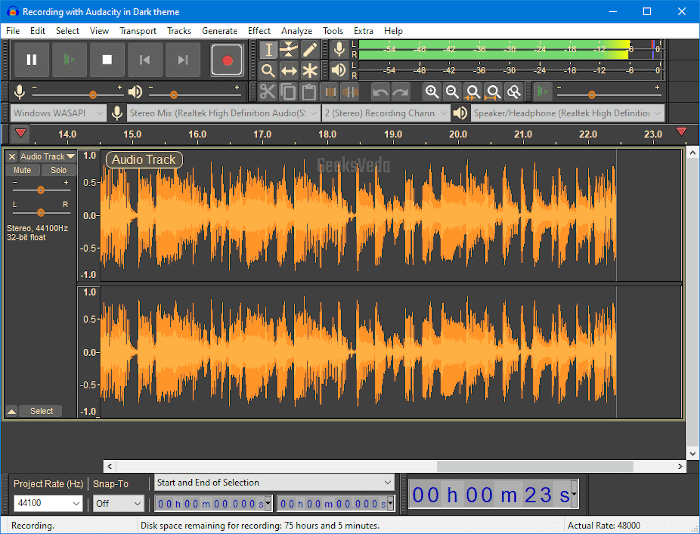 4. Flameshot
When it comes to capturing screenshots, Flameshot comes second to none. Flameshot is a simple, yet powerful tool that lets you easily capture screenshots.
It is easy to launch and provides an intuitive and simple UI. You can drag the selection box to cover the desired area, annotate and save the screenshot to your system.
In addition, it provides a command-line interface (CLI) that provides a wide selection of commands to configure various aspects of the screenshot tool such as key binds without launching the GUI.
Key features include:
Highly customizable. You can tweak several aspects including how images are saved, keyboard shortcuts, UI color, and many more.
Ability to resize and drag around the selection area.
Annotations. You can annotate, draw shapes, etc on the captures.
You can upload the screen captures to Imgur.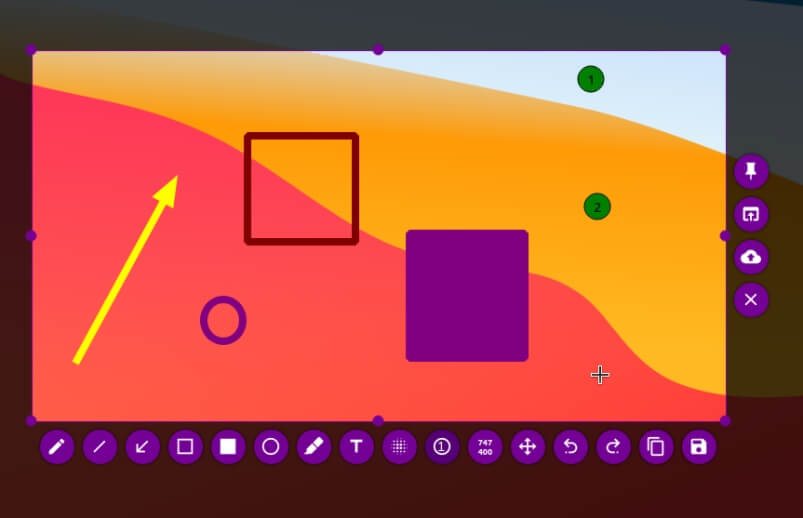 5. Kazam
Kazam is a simple screen recording program that is considered one of the best in Linux. You can record a window, part of the screen, or even an entire window on your Linux desktop.
Optionally, it allows you to record audio from any input device supported by Pulse Audio. In addition, Kazam also allows you to capture screenshots on your screen and save them in PNG format.
Key features include:
Record a section of the screen, a window, or the entire screen.
Capture screenshots.
Capture video from the webcam.
Record audio from a microphone during recording.
Keyboard shortcuts for starting, pausing, and finishing a video recording.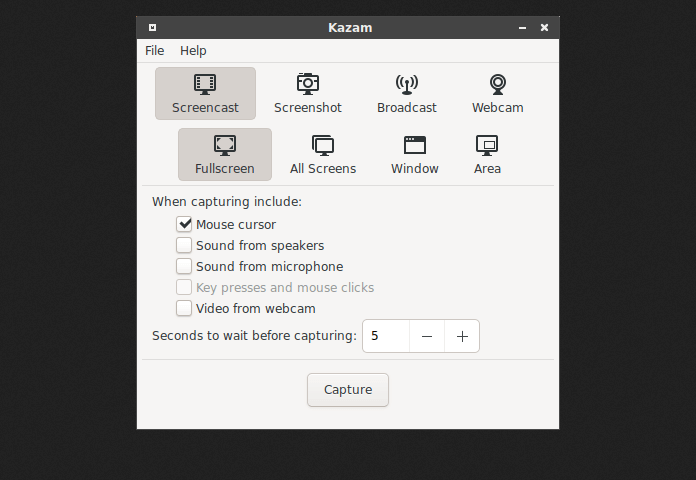 6. Steam
For a long time, Linux was not considered an ideal environment for gaming, and users preferred Windows. But things have since changed and you can seamlessly play games on Linux using various channels, one of which is Steam.
Created by Valve, Steam is an online platform where you can buy, play and discuss games. It offers multiple download servers located n various regions of the world.
During a game download or upload, it automatically selects the fastest server based on your current location in the world.
Key features include:
Steam Deck UI. This provides a convenient way to navigate Steam UI using a gamepad.
Store Manager for indicating which games are installed, the memory occupied by each game, and the ability to uninstall games.
Wishlist feature for adding games you wish to buy.
Trading cards.
Steam remote play.
7. VLC
VLC media player is, undoubtedly, one of the most user-friendly and reliable multimedia players that supports major operating systems – Linux, Windows, and macOS. It's free and open-source and supports a wide range of codecs and multimedia formats including mp4, mpeg4, AVI, mp3, FLV, WMV, and so on.
In addition, VLC allows you to view images saved on your system in a slideshow as well as stream podcasts and online radio stations. It also accepts live video from platforms such as Xbox PlayStation Live.
Key features include:
Plays a wide range of sources including files, webcams, discs, and streams.
Support for most codecs – MPEG-4, WMV, H.264, MKV, WebM, etc.
Ability to convert video files into various formats.
Playing internet radio and podcasts.
Highly customizable with skins and extensions.
Free and open-source with no ads or user-tracking.
8. Kodi
Previously known as XBMC, and developed by Kodi Foundation, Kodi is an open-source and highly customizable media server software. It spices up your entertainment by letting you play movies, and TV Shows, listen to music, and view images in a slideshow as well as other media files saved on your local PC or from the internet or network server.
Key features include:
Intuitive and user-friendly UI.
Runs on a variety of devices such as smart TV, tablets, computers, etc.
highly configurable interface via skins.
Allows you to browse, view, sort, filter, or even start a slideshow of your pictures and much more.
Ability to watch and record live TV.
Supports importing pictures into a library.
Great support for various user-created add-ons and plugins.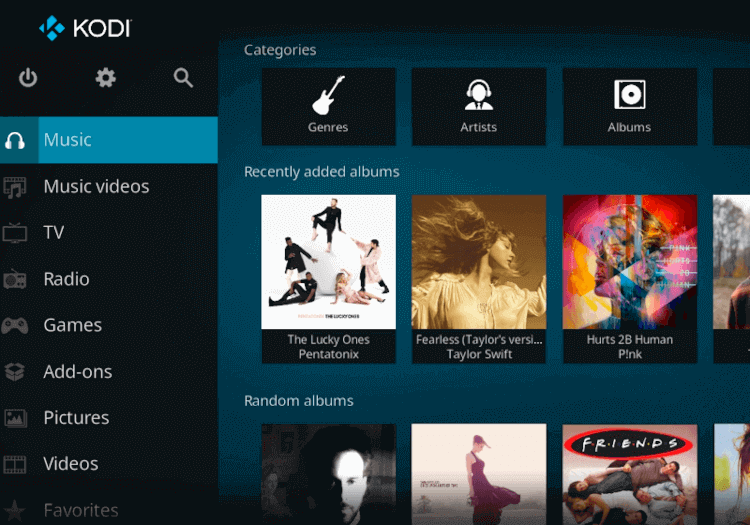 9. Kdenlive
Developed by the KDE Community on Qt and KDE libraries, Kdenlive is a free and open-source video editing software that allows you to edit/modify your videos. It's a powerful and reliable video editor for GNU/Linux. It performs basic and advanced editing techniques and is perfect for beginners and experienced users.
Key features include:
Multi-track video editing.
Configurable interface and shortcuts.
Automatic backups.
Audio and video scopes.
Keyframeable effects.
Timeline preview.
A wide range of transitions and effects.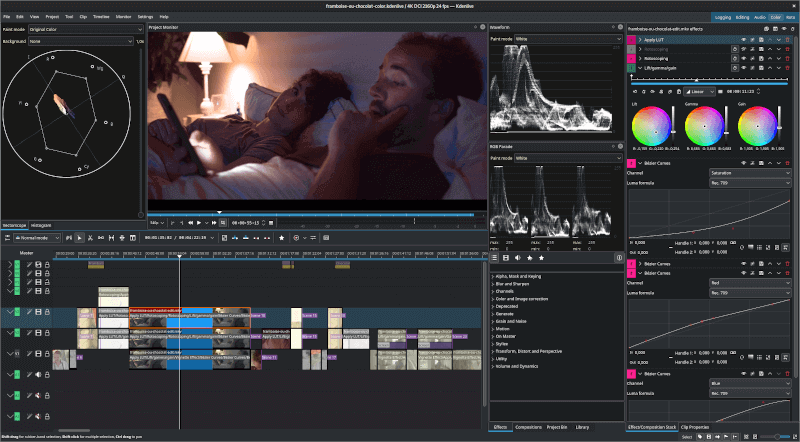 10. Visual Studio Code
Popularly referred to as VS Code, Visual Studio Code is a household name among developers and programmers. It is a free, open-source, and cross-platform code editor that provides tons of features to allow developers to build their front-end and back-end applications.
Visual Studio Code supports a wide range of programming languages including Python, Java, C, C++, React, Swift, TypeScript, and many others.
Major features include:
Syntax highlighting.
Git integration.
Integrated CLI ( Command Line Interface ).
Cool third-party extensions such as Prettier.
Great plugin support.
Built-in support for Node.js development with Typescript and Javascript.
Light and dark themes.
Debugging tools.
11. Simplenote
If you love jotting down notes or keeping a to-do list, then Simplenote is the right tool for you. Simplenote is a free and cross-platform note-taking application that allows you to write down notes, ideas, and journals and sync them across all your devices without paying a dime.
Key features include:
Automatic synchronization of notes across all your devices.
Notes are backed up with each change you make.
Adding tags to notes for easy tracking.
Ability to collaborate on shared notes e.g. to-do lists.
Ability to write and preview notes in markdown format.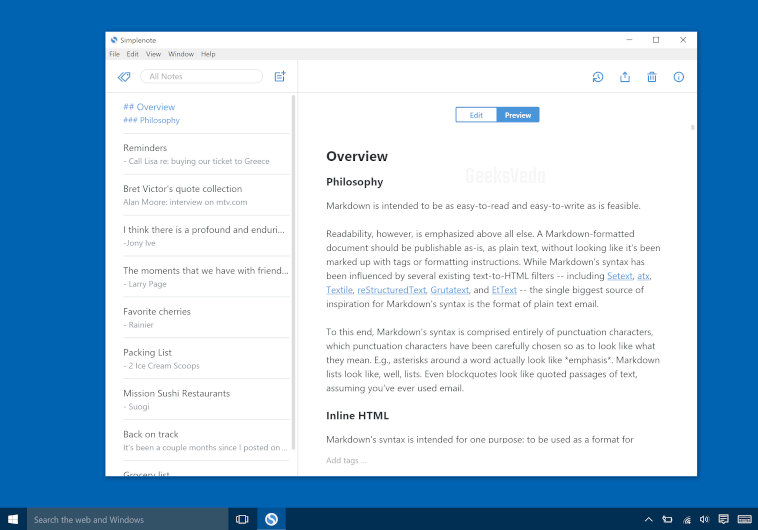 12. Slack
Collaboration has become increasingly crucial regardless of the nature of work; whether enterprise or small-medium sized projects. Slack is a real-time collaboration tool used to streamline workflows.
Slack promotes a more connected and flexible way of working as a team. You can easily collaborate on a project with your colleagues much the same way you would in person. Channels are dedicated spaces that allow effective communication between users working on a project.
Key features include:
Voice and video calls.
Instant messaging.
Scheduled messaging.
Integrations with other third-party apps such as Trello, Asana, Zoho, Office 365, and many more.
Automated Reminders.
Convenient note-taking.
Privatization of channels.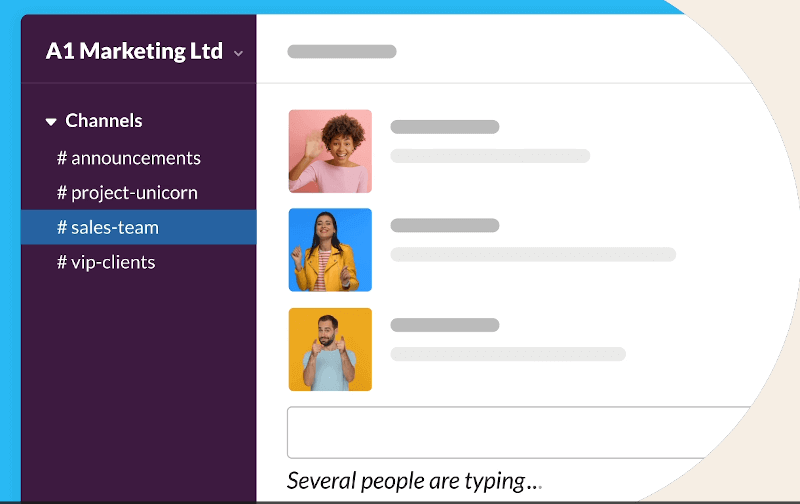 13. VirtualBox
VirtualBox is a powerful Type 2 hypervisor for AMD64/Intel64 and x86 systems that is popular amongst desktop users and professionals. It's a cross-platform and feature-rich hypervisor that lets you create and manage virtual machines using a simple and intuitive graphical user interface.
VirtualBox supports a wide range of guest operating systems including Windows, Linux, Solaris, and even OpenBSD.
Key Features include:
Impressive hardware support – It supports PXE network boot, USB devices, full ACPI support, built-in ISCI support, and many more.
Virtual machine snapshots to help you revert the virtual machine to its earlier state.
Guest additions to enhance the performance of virtual machines.
Remote display. This enables the high-performance remote display to a virtual machine.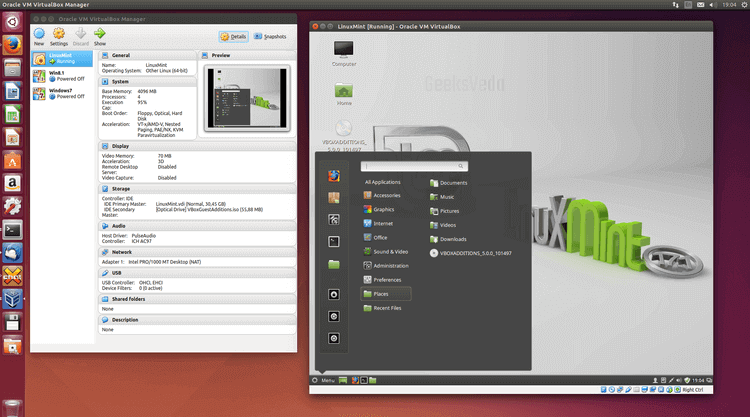 14. ClamAV
There's a widely held misconception that Linux is secure enough and, thus, not prone to viruses and other forms of malware. The truth is that while Linux is considered more secure than Windows and other computing platforms, it is still prone to malware, and hence it's prudent to install an anti-virus application.
ClamAV is an open-source antivirus software for detecting viruses, trojans, and a variety of other threats.
It's a high-performance anti-virus for Linux systems that ships with command-line utilities for on-demand file scanning as well as automatic signature objects.
Key Features include:
Multi-threaded scanner daemon.
Email and web scanning.
CLI tools for real-time file scanning.
Internet usage monitoring.
Mail-gateway protection.
Automatic signature updates.
15. LibreOffice
A common productivity software suite that comes included with almost any desktop is LibreOffice Suite, This is a free and opensource office suite that was forked from OpenOffice and officially released on 25, January 2011
LibreOffice suite consists of the following suite of applications:
Writer – A word Processor similar to Microsoft Word.
Calc – A spreadsheet program with similar functionality to Microsoft Excel.
Draw – This is a vector graphics editor and diagramming application similar to Microsoft Visio.
Math – An application tailored for formulating and editing mathematical formulae.
Base – This is a database management program that is comparable to Microsoft Access.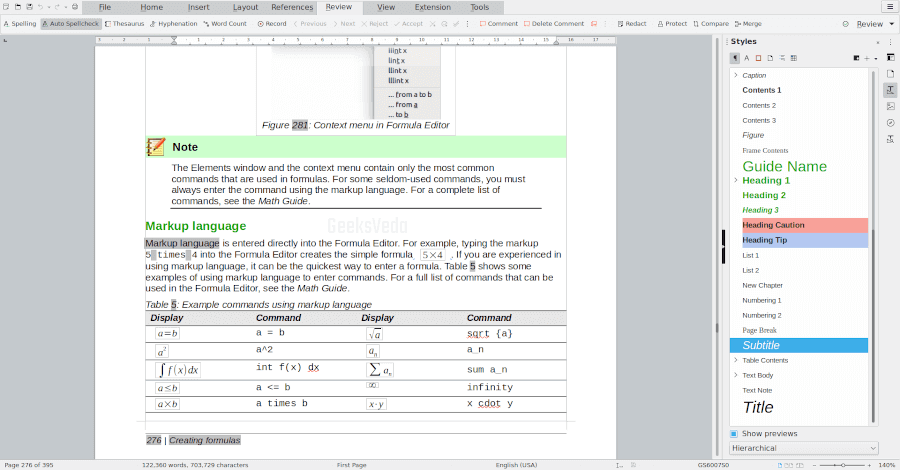 Conclusion
That was a summary of some of the most popular apps you can find in Linux. We have highlighted apps in various domains such as multimedia, code development, office productivity, security, and entertainment.