In today's world of digitization, online courses have become one of the best ways to upskill yourself and gain expertise other than fields you've not done graduation. It can help boost your CV or resume and provide an alternative way to earn money with your skill and knowledge.
Surprisingly, various popular courses provide free certification without paying a penny. So, if you're searching for a new job or have extra time to invest in learning, it would be great to add a new badge of certification to your resume.
In this article, we'll explore eight popular and free certifications from a renowned company that offers programming languages, designing, machine learning, digital marketing skills, and many more.
1. FreeCodeCamp
If you're a software engineer or especially a web developer, there are very high chances that you might have come across various useful tutorials of FreeCodeCamp, which is a community started by Quincy Larson in 2014 and is now a network of millions of people and active contributors around the world.
You can learn to code with all free and well-structured hundreds of hours of free lessons, programming projects, and interview preparation guides for developers on freeCodeCamp.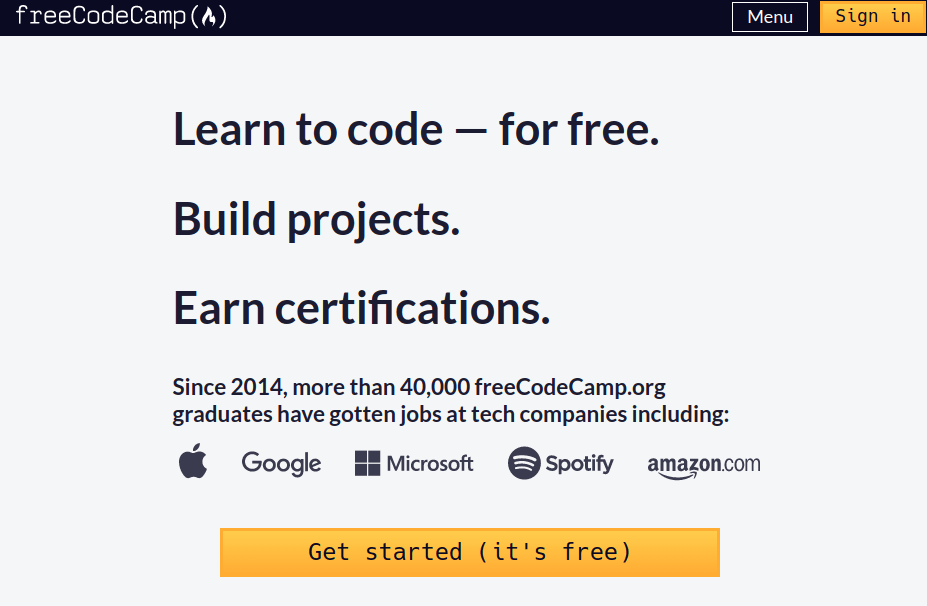 Along with completing free online courses, FreeCodeCamp also provides an opportunity to earn verified certification in the following courses:
Responsive Web Design
JavaScript Algorithms and Data Structures
Front-End Development Libraries
Data Visualization
Relational Database (Beta)
Back End Development and APIs
Quality Assurance
Scientific Computing with Python
Information Security
Machine Learning with Python
Once you finish the courses, the following are the key things you'll learn during the process:
Responsive Web Designing
Fundamentals of JavaScript
Design responsive pages using Bootstrap
JSON data handling
Bash programming
Git for project management
Create and use a relational database
Full-fledged backend server with middleware
Python fundamental
TensorFlow framework to build several neural networks
Not just you'll gain knowledge, but it will also make you confident to apply for jobs at top tech companies in the same way as more than 40,000 freeCodeCamp.org graduates have gotten jobs at companies like Google, Microsoft, Spotify, and Amazon.
2. Digital Garage by Google
In your student life, most of you might have dreamt of working at Google, but most were able to fulfill their dream and the rest still hustling for it. But did you also know that Google provides a range of free learning courses that can help you to get in your dream job?
Digital Garage is an official platform by Google that hosts free online courses in collaboration with various entities like Simplilearn, Coursera, Udacity, and the University of Helsinki.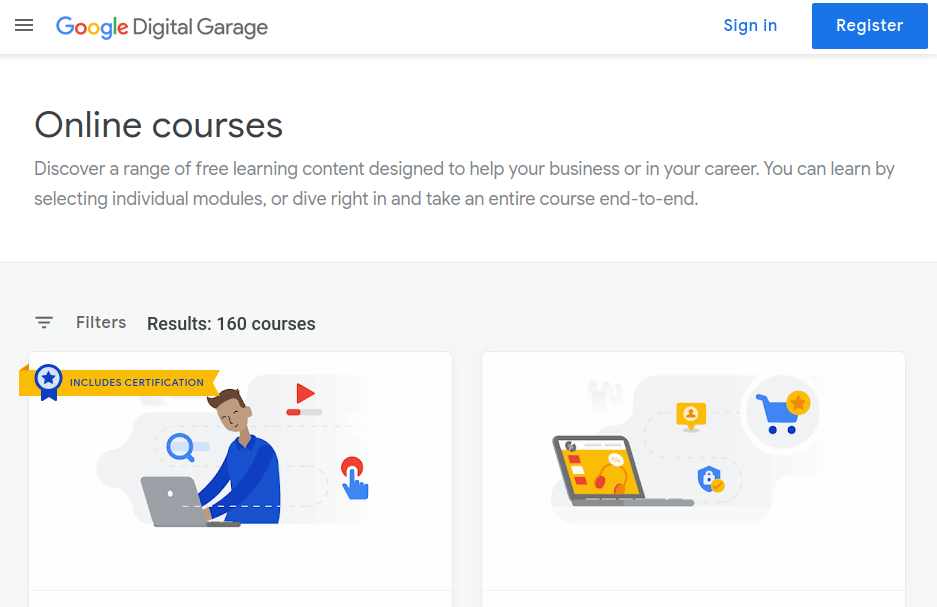 The course length range from a minimum of two hours to more than twenty hours including free or paid certification.
Yes, Google also offers certificates for various learning courses like Fundamentals of Digital Marketing, where after completing all modules you can give a final 40-question exam and get certified.
3. Design School by Canva
Are you a web designer? If so, you might already be well aware of Canva, one of the best free professional web and graphic design platforms. And what can be better than to get learn from the design team who is behind the already successful graphic tool Canva?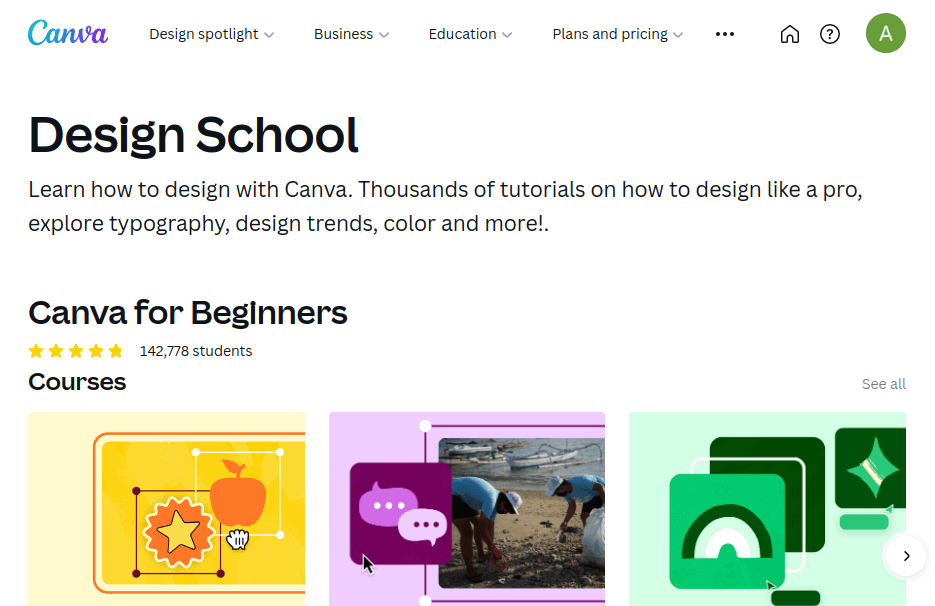 Along with providing various free tutorials on how to design using the Canva tool, Canva also offers free online video courses related to design such as:
Graphic design basics
Print Advertising
Typography and layout
Creating a logo
Social Media
4. Development Courses by Udemy
As you may already know that Udemy is one of the top online learning and teaching platform with more than two lakh courses and fifty million students.
Surely not all courses are freely available but Udemy does make some popular courses available free of cost, even with a free certificate for your resume.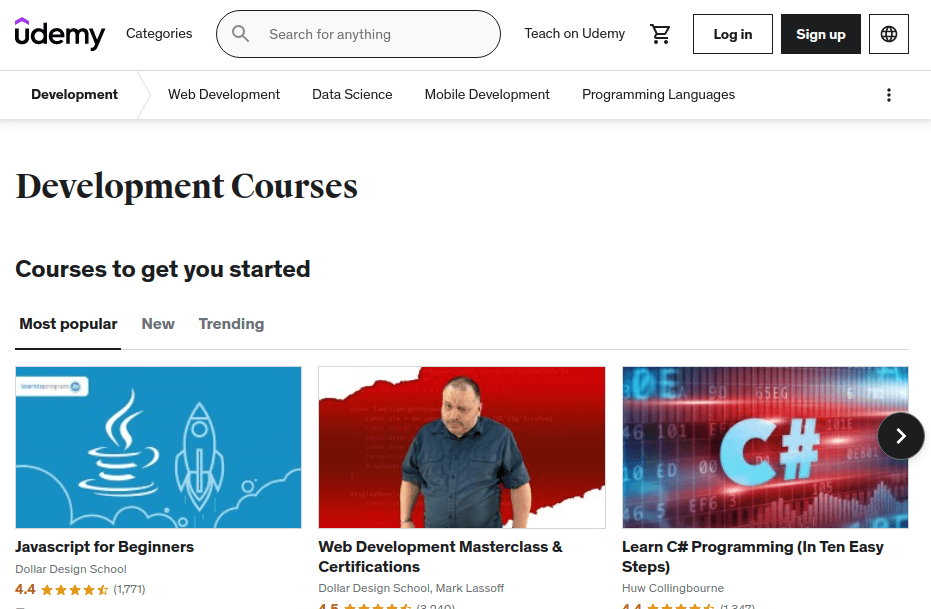 If you're into software engineering, then you can explore a myriad of the subjects available for free learning courses and hone your skills in the following topics:
Learning programming languages
Web development
Machine learning
Android development
Game development fundamental
5. Engineering Courses by edX
I guarantee that most of you must have dreamt of going to a foreign university for pursuing graduation and research studies but had to drop the plan because of finances, examination, or any other reasons.
Well, now in the era of the Internet, you don't have to worry about getting admission and shifting to foreign for education purposes as it's now available with just a click of a button. Yes, edX is one such online learning platform co-founded by popular Harvard and MIT universities.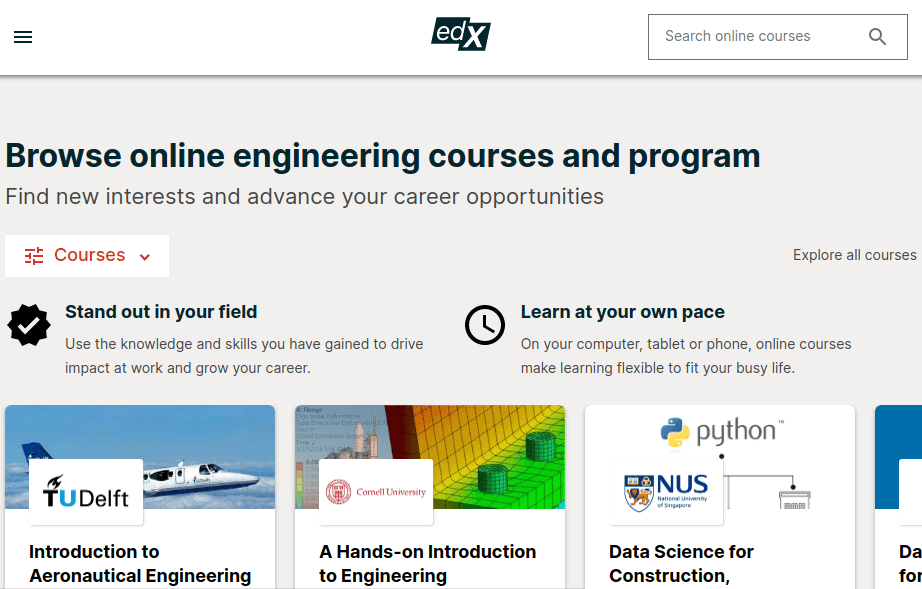 Whether you're a mechanical, electrical, civil, or software engineer, you can browse any online engineering university-level courses and programs on edX curated by renowned universities and other entities and enroll freely.
Though not all, for various engineering courses, edX provides a professional certificate that can boost your career growth to the next level.
6. LinkedIn Learning
As you may know, LinkedIn is now no longer limited to just making a network of industry professionals or job searching platforms, it also helps students and professionals with free learning courses to advance their skills and career.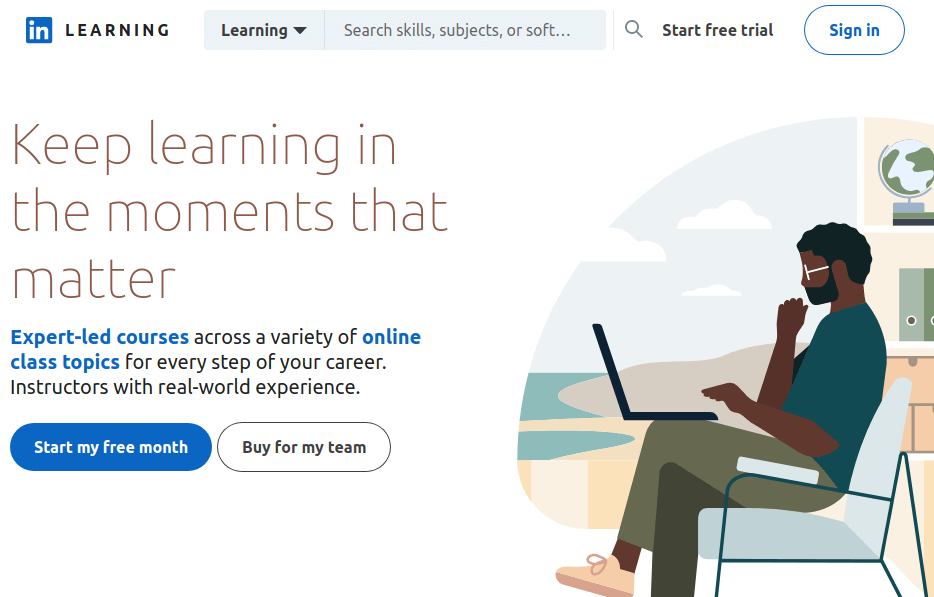 With LinkedIn Learning, you can identify your skill and discover the course hosted by respective industry experts like "Career Essentials in Software Development by Microsoft and LinkedIn".
After you complete the course and pass the final exam, you can also earn a professional certificate that you can tag on your LinkedIn profile and resume.
7. MIT OpenCourseWare
Have you ever wished to study at MIT university and couldn't make it? Worry not, as you can still access all high-quality educational undergraduate- and graduate-level courses online freely via MIT OpenCourseWare (MIT OCW) initiative officially run by MIT itself.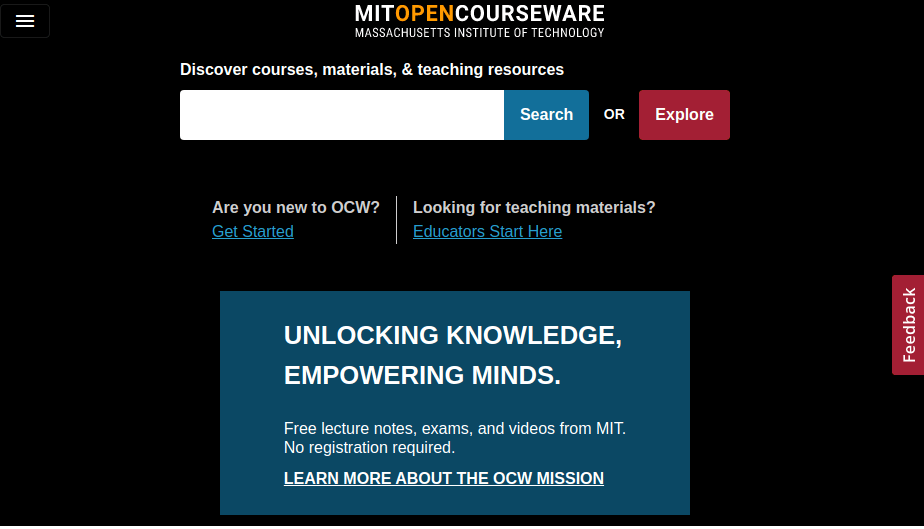 Whether you're a student, a teacher, or a curious person that wants to learn, you can browse through and download courses, materials, and teaching resources from various MIT departments like Mathematics, Anthropology, Physics, Chemistry, Electrical Engineering, and Computer Science free of cost.
8. Learn with Kaggle
Kaggle is a well-known online community among data scientists and machine learning students and professionals that provides over fifty thousand public datasets and four lakh public notebooks for data science work.
What more you can expect from Kaggle? Courses for aspiring data scientists? Well, you get what you wish for. Kaggle does offer completely high-quality free online learning resources with tutorials and exercises to practice and hone analysis skills.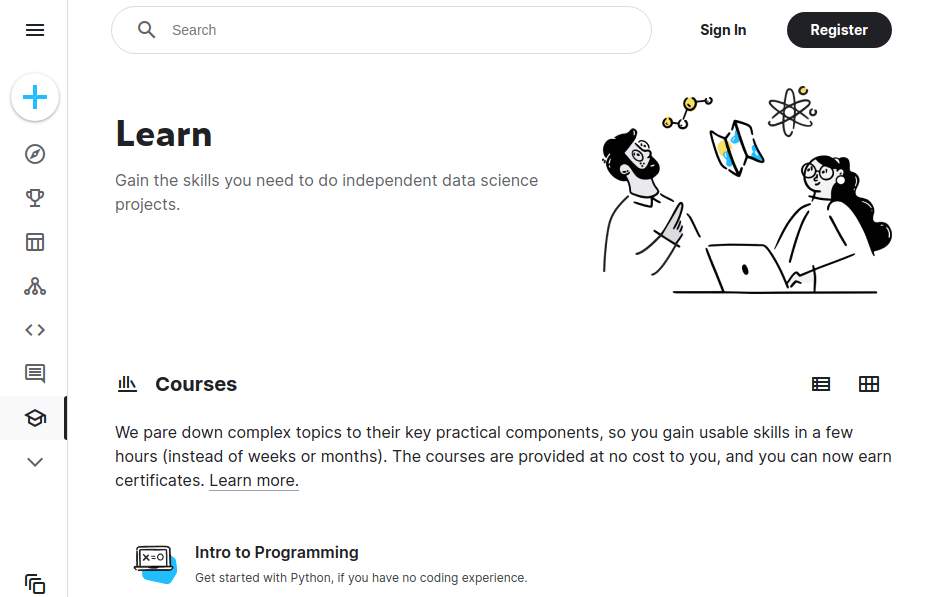 Even when you finish a course, you also earn a completion certificate that you can share on your social media or save for your resume to showcase your new skills.
Following are the important things you can learn on Kaggle:
Python Programming
Machine and Deep Learning Basics
Data Visualization
SQL Basic to Advance
Basics of Computer Vision and Geospatial Analysis
Intro to Game AI and Reinforcement Learning
Conclusion
Along with an undergrad degree, skill-based certification is a need of the hour to get an edge over the competitor in your discipline.
And as we saw above, unlike undergrad degrees, we don't have to pay for skill certification as various reputed entities provide completely free online learning resources with high-quality content and free certification.
Do you know of any great website that offers free courses online that are missing from the list? Let me know in the comments below.