Being a web designer, it's always an overwhelming experience to get all the required beautiful and high-quality icons at one location. And what if I tell you that you can get it all at free of cost?
Yes, there are various online websites that offer millions of free icons for web graphics suiting all shapes and sizes of platforms like desktops, mobile, and infographics.
You can use it without copyright issues for both personal and commercial usage on your social media images, personal presentation, or web designs.
In this article, I'll list the 13 best sites to download free icons you can bookmark and use in your personal or professional projects.

1. Icons8.com
If you search for the best sites to download icons, you'll definitely come across Icon8 sites in almost every list.
Icon8 is not popular only for providing a vast collection of free icons but also for making icons available in more than 50 styles that you can download in custom sizes and multiple formats like PNG, and Favicon.
For instance, platform specifics icons like Windows 11, iPhone, and material design for android. If you're working on a project with a Neon theme, then you can also download different categories of icons in Neon style.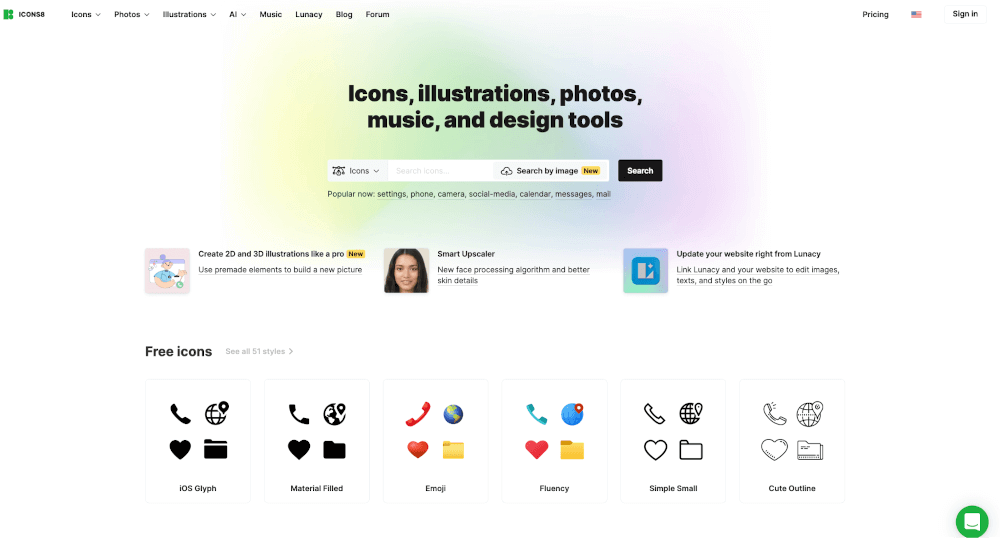 2. Flaticon.com
Flaticon has one of the largest databases of vector icons available for download in various formats like SVG, PNG, PSD, and Base64 format. For easy accessibility, Flaticon also maintains icon packages of various disciplines like Science, Literature, and Transport.
Among the striking feature of Flaticon, it provides interface-specific icons for web, iOS, and Android applications. If you're looking to add motion to your project via icons then Flaticon also offers a bundle of animated icons.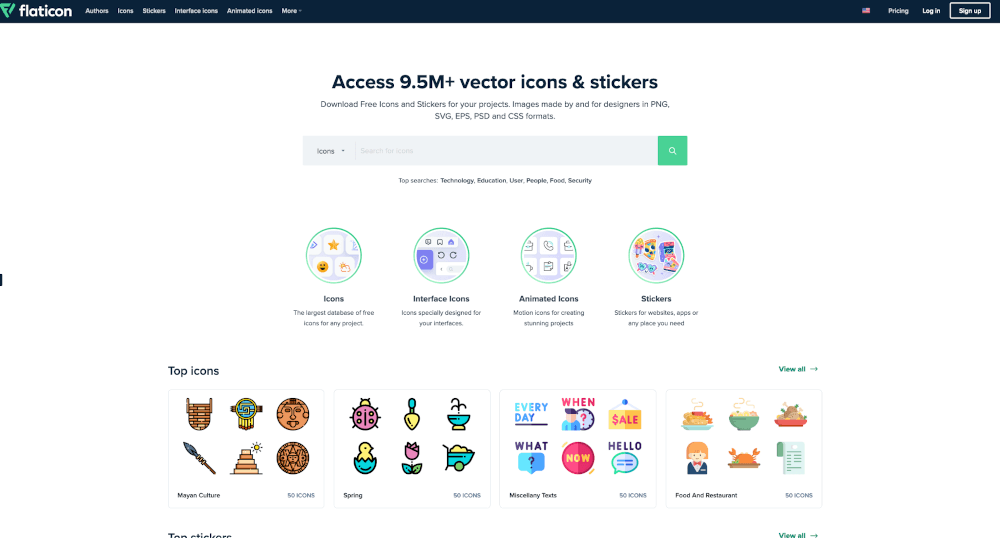 3. Iconfinder.com
As the site name suggests, Iconfinder is solely a platform that hosts 6 million icons in different styles like Pastel, Bootstrap, Doodle, Line, Emoji, and Filled outline. You can download it freely in SVG, PNG, and HTML code formats.
4. Material Icon By Google
The Material Icon platform is hosted by Google to provide free icons in five styles based on the core Material Design principles and metrics. If you're a web or mobile developer, the site is of great help.
Along with downloading free icons in SVG and PNG format, you can also directly embed the icon in your project using the respective platform code available for that icon.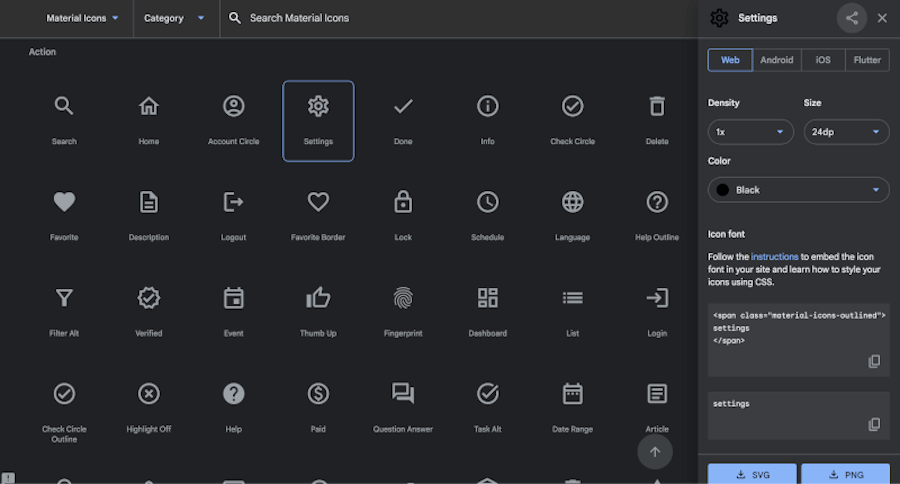 5. Simpleicons.org
Unlike other icon sites, Simpleicons is a dedicated site to provide free icons of only popular brands. Instead of visiting every brand site to download their icon, you can simply go to Simpleicons.org and search with brand name among the available 2437 free SVG icons.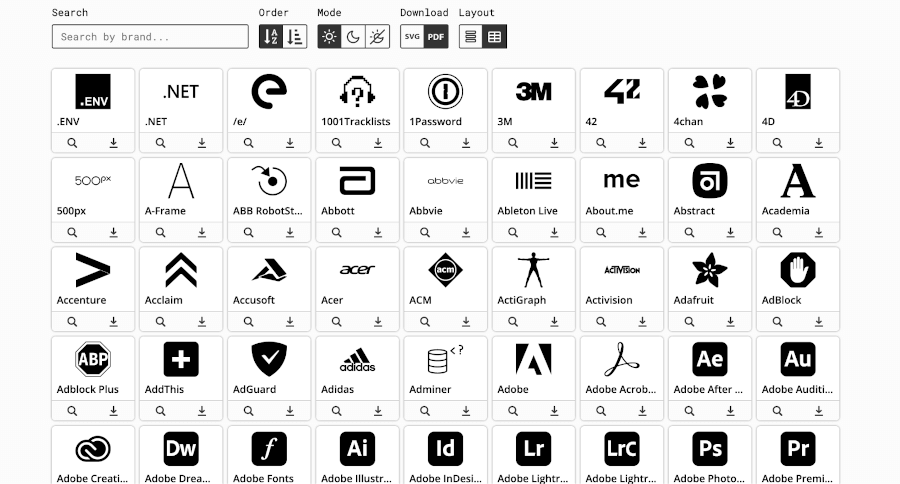 6. Iconscout.com
Iconscout is a site for professional web designers containing both free and premium over 5.5 million icons in ten different icon styles: colored outline, doodle, dual tone, flat, glyph, gradient, isometric, line, rounded, or sticker downloadable in different formats like SVG, PNG, EPS, ICO, ICNS, AI or PDF.
Icons are categorized in bundle packs to ease the accessibility of icons belonging to a similar domain. User Interface specific icons are also available.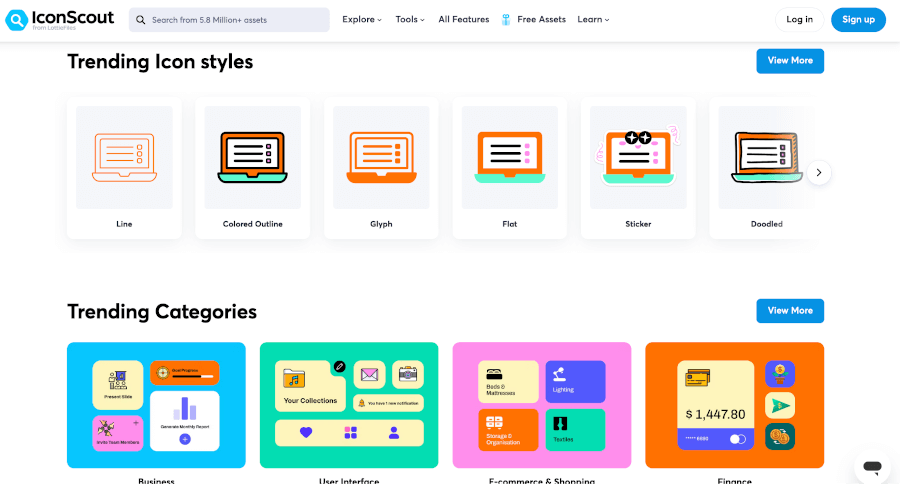 7. Iconmonstr.com
Unlike other fancy colorful platforms with vast collections, Iconmonstr is a very simple site that hosts free black-and-white icons. Over 4784 free icons are also categorized in 316 icon packages for easy accessibility of similar discipline icons.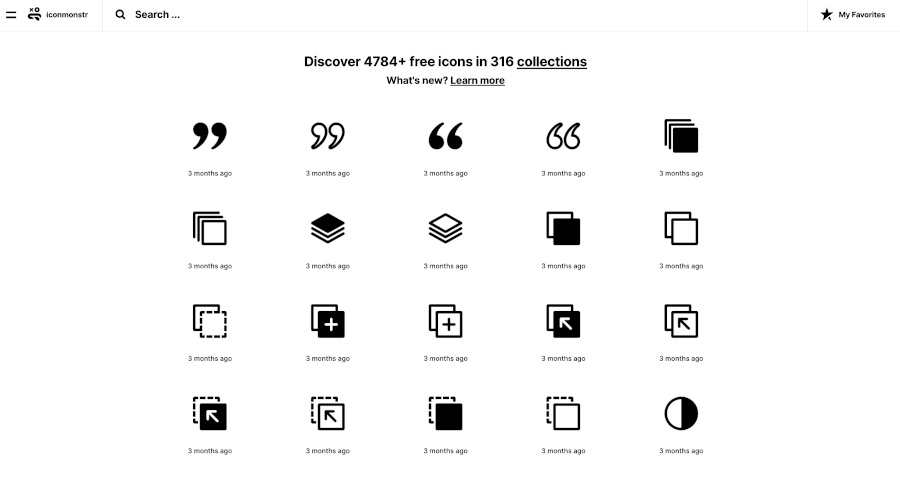 8. Feathericons.com
Feather is also yet another simple free and open-source platform that offers a collection of simple-but-beautiful icons. With just a click on the icon, you can download it in an SVG format and use or embed it in your web development project.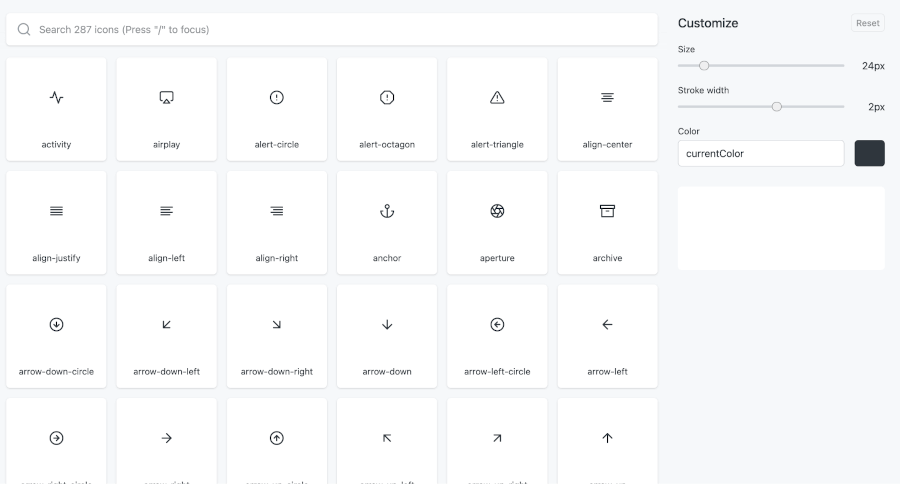 9. Iconsvg.xyz
Mainly focussing on web development projects, the Iconsvg site hosts collections of SVG icons that you can download with a click of a button. Well, not just icons, but Iconsvg also gives you some brand company icons. The appearance of SVG icons is highly customizable including color, stroke, joints, and ends.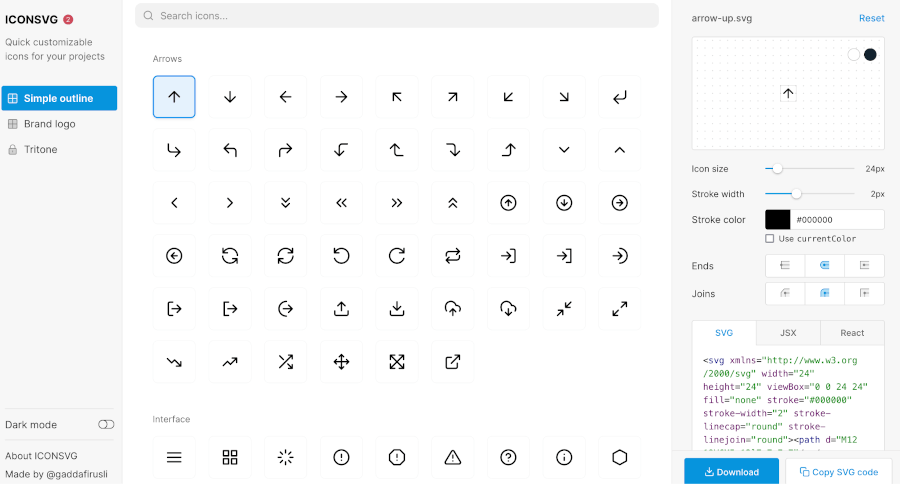 10. Iconshock.com
With over 2 million icons in more than 30 styles including Flat, Material, iOS, Glyph, Colorful, Window 10, and Revamped Office, Iconshock is yet another site for professional web designers.
What makes Iconshock different from other sites is that it also offers 3D icons in high 4K resolutions. Though not all, various of them are free to download in SVG format.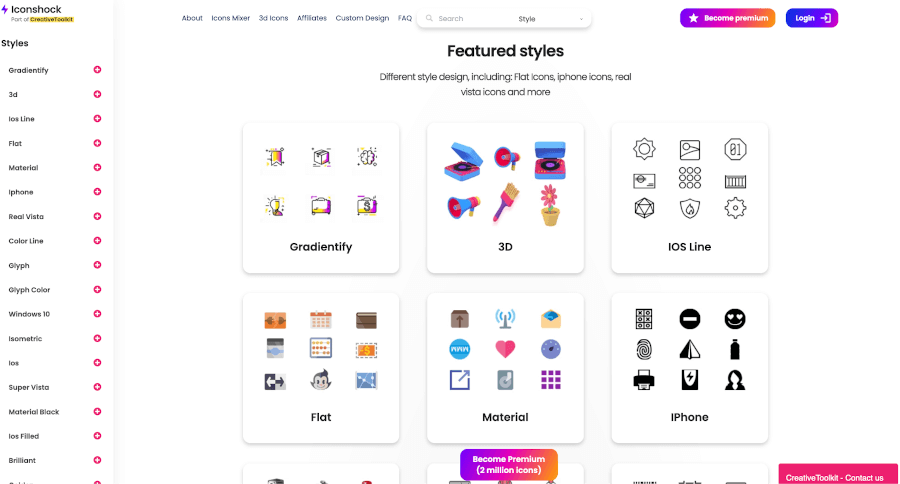 11. Lineicons.com
As the site name indicates, Lineicons contains over 5700 handcrafted line icons in multiple style variations that designers and developers can download for the modern user interface of the web, mobile, and desktop apps in a popular vector format such as SVG and Web Font.
Categorized in over 40 icon bundles, brand company icon packs are also available free of cost.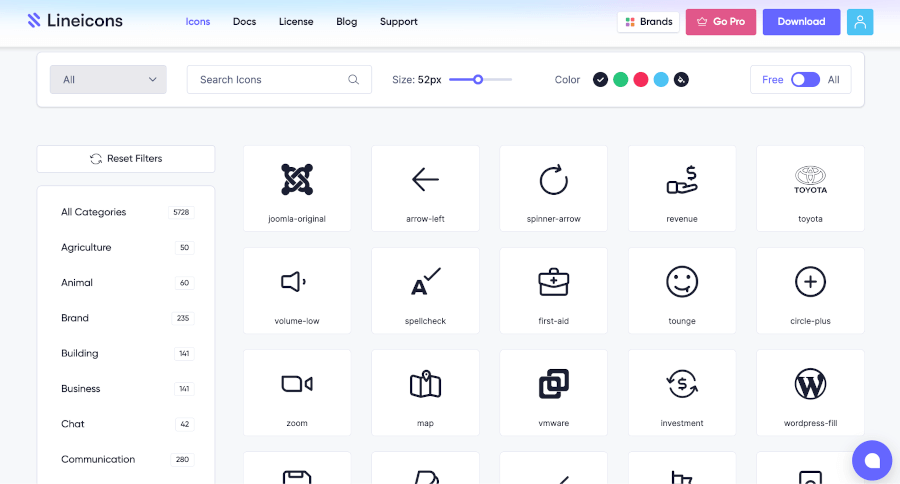 12. Iconpacks.net
With over 18428 completely free SVG and PNG icons, Iconpacks is also a good alternative to download icons for commercial and personal use in outline and filled style. Including brand icons, icons are available in both black-and-white and colorful styles.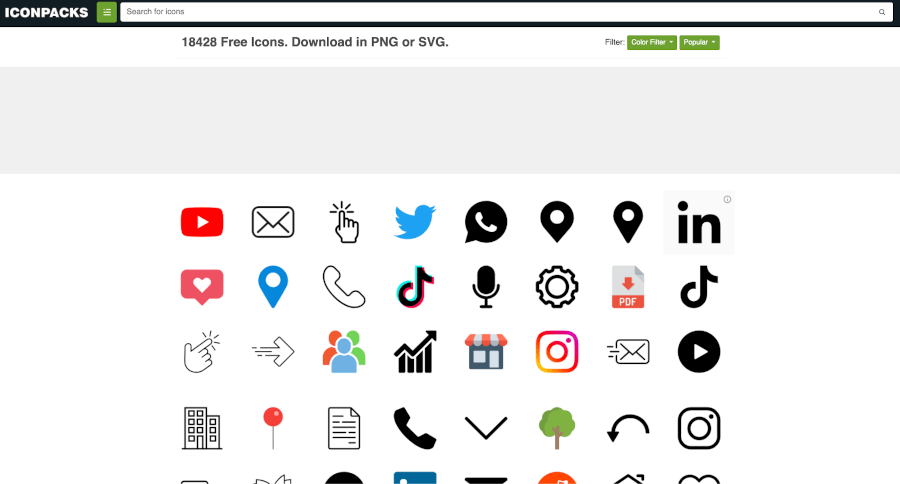 13. Tilda Icons
Offered by the website builder Tilda, the icons are available specifically for web designers in SVG format. Categorized all 700+ icons in 47 sets, you can download each set of icons in an archive format and use it for your project.
All icons are free to use both for personal and commercial projects. However, you also need to attribute the icon to Tilda Publishing.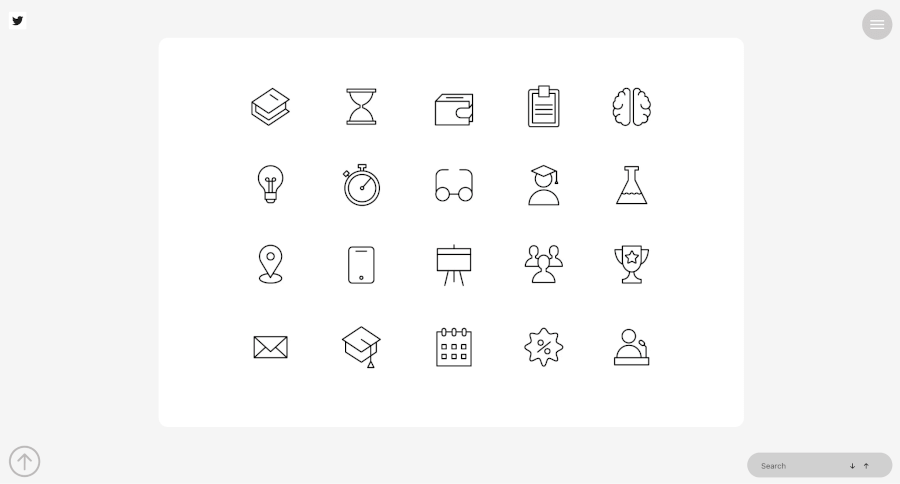 Conclusion
Combining all sites simple to professional, you can have access to millions of unique, high-quality, and free icons in various formats and styles.
Whatever style suits your project, you can download and turn your simplicity into stunning look graphics free of cost.