Project management doesn't need to be as complicated and time-consuming as some businesses make it.
A project manager has to juggle several responsibilities, including keeping track of them, monitoring the set targets, resource allocation, and much more. Thus, a project manager must always stay on their feet to ensure alignment with the project's scope, deadline, and budget.
And with inefficient project management, several challenges come into the picture, such as scope creep, lack of communication, unclear goals and objectives, skill gaps, overburdened resources, unrealistic deadlines, lack of accountability, and inadequate risk management.
In fact, organizations waste 12% of their valuable resources because of poor project management.
So how can this issue be resolved? The answer is efficient Project Management (PM) software.
In this article, we'll see what project management software is and list some of the best and most effective software you can use to manage your projects to ensure high efficiency, productivity, and better team alignment.
Let's go!
What is Project Management Software
Project management software is a tool organization and businesses use to plan and manage projects efficiently to ensure a smooth operation.
It can help project managers perform several tasks related to project management, including resource allocation, team collaboration, target tracking and monitoring, and cost budgeting.
Thus, project management software keeps every stakeholder involved on the same page, making achieving the goals faster and easier.
Here are the things you must look for in good project management software.
Task list or status update icon to keep everyone on the same page.
File sharing option to seamlessly share and organize critical documents to remove wasted time searching files.
Date and time tracking and reporting options to maintain and stay aligned on the project's schedule through Gantt charts or calendars to understand the timeline for the project.
Budget management solution to organize and track expenses, billing, and invoices.
While there are several other features and elements of project management software, the ones discussed are some of the primary and crucial elements a project management software must include.
So, let's look at a few popular project management software you can use to eliminate the hassle of spreadsheets, maximize your productivity, and make managing your project a breeze.
1. Monday.com
Monday is a flexible and customizable project management software that makes managing simple to complex projects easy.
Besides ensuring seamless project collaboration and organization, Monday also helps automate routine project tasks, like approval requests, status changes upon achieving a milestone, and email reminders.
This aspect makes Monday one of the team's most efficient and reliable project management software.
Monday Features:
Ensures organization, allowing you to assign tasks, set priorities and timelines, and monitor progress.
Ensures team collaboration, allowing every stakeholder to gain visibility through the work progress to ensure smoother execution.
Ensures customization and flexibility, allowing you to shape your project's workflow that deems best to your specific needs.
Forrester's report suggests that Monday's project management solution has helped organizations save 15,600 hours and bring 28% RoI, making it an investment-worthy project management software.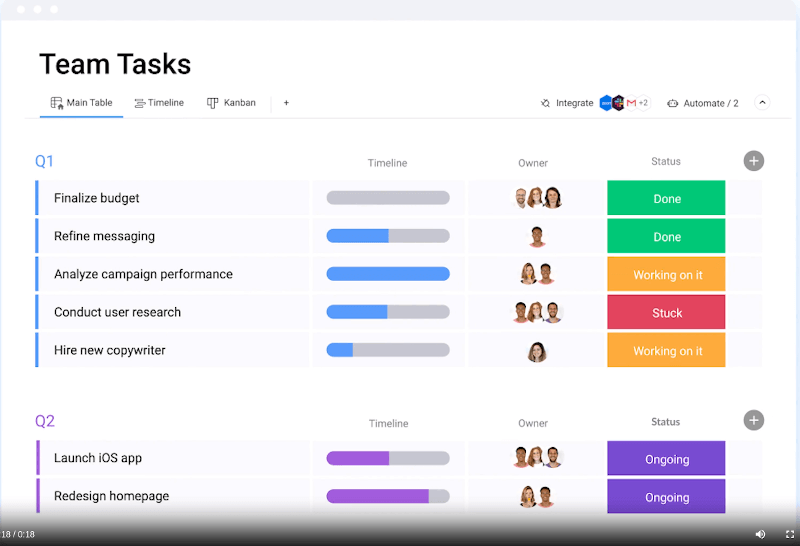 2. Trello
Trello's user-friendly interface and accessibility make it one of the well-known project management tools among individuals, freelancers, and project managers.
It's an excellent tool for small teams and individuals to keep all their projects aligned on one single platform.
In Trello, you can create multiple workspaces for different clients or teams; within each workspace, you can create multiple boards for specific projects.
Trello Features:
Ideal for managing individual and work projects.
Flexibility to add and provide access to particular team members.
Provides crucial elements, like adding due dates, time tracking, and description, to provide necessary details about the task.
Allows stakeholders and team members to add comments to provide updates or changes in the process if any.
Thus, Trello is an intuitive, affordable, and beginner-friendly project management tool that doesn't require an extensive learning curve.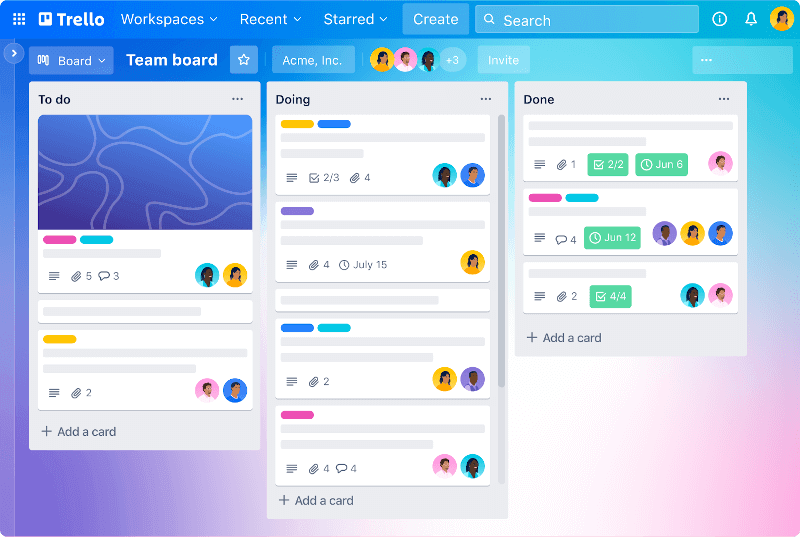 3. Wrike
Wrike provides an all-in-one platform to organize work, manage projects, improve collaboration, and boost engagement and execution among teams.
It's among the most trusted project management software by over 20,000+ global companies, including Siemens, P&G, and Nickelodeon.
Wrike Features:
Enhance visibility through work views.
Automates repetitive workflows through intuitive automation.
Team members and project managers can drive results through real-time dashboards and analytics.
Automates approval and saves time by streamlining proofing and automating approval through side-by-side comparisons.
Provides seamless integration with third-party tools like Slack, Zoom, Adobe, Microsoft, Jira, Okta, Salesforce, and more.
Wrike is a flexible and valuable project management tool for several teams, including marketing, IT, operations, and creative teams.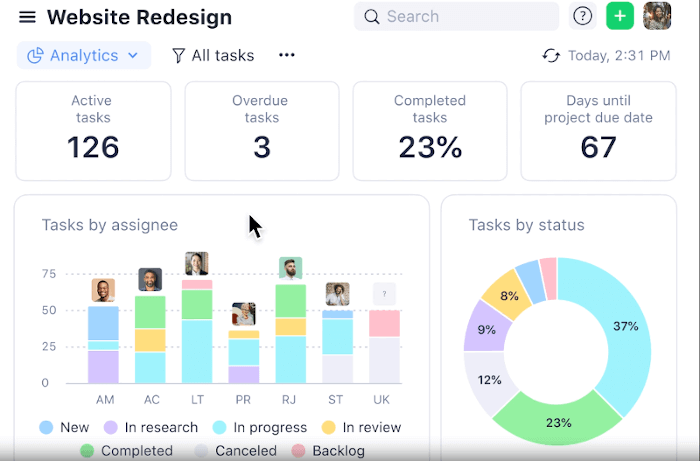 4. ClickUp
ClickUp is a perfect project management tool for remote work teams to build an ideal project workflow with enhanced customization options.
It facilitates managing resources, like lists, Calendar view, Gantt, and Board, through 10+ customizable views to plan your projects smarter.
ClickUp Features:
Provides multiple features, like checklists, priorities, mind maps, task templates, custom statuses, and more, to align multiple team members.
Customizable dashboards make viewing all the visual elements easier at a glance.
Allows you to integrate with Slack, Outlook, Zoom, CloudApp, and Calendly.
Perfect for several business teams, like Human Resources, Design, Marketing Operations, Engineering, and Software Development.
ClickUp is used by some of the top 800,000+ productive teams from companies like IBM, Samsung, Belmond, and Padres.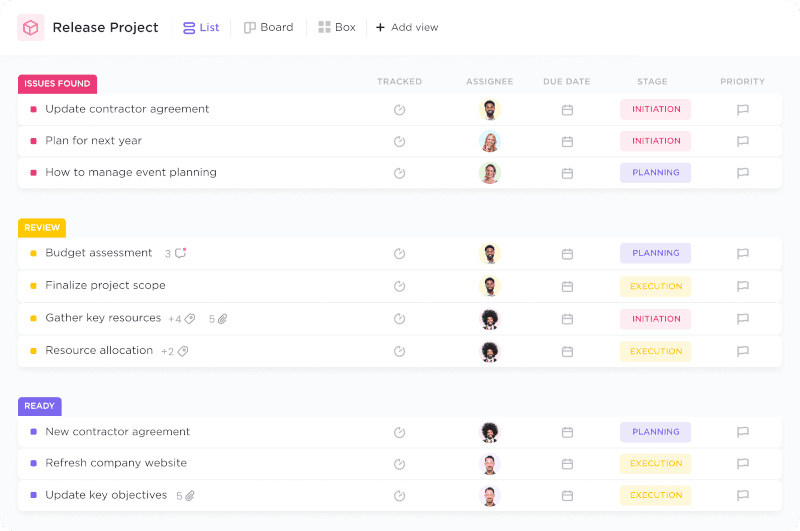 5. Airtable
Airtable is one of the best and ideal project management tools for managing project databases, allowing you to add long texts, attachments, links, checkboxes, and other crucial elements and records in a table.
It provides powerful sorting, filtering, and grouping features, providing the flexibility to arrange your project workflow in the way you want.
Airtable Features:
Provides an attractive, colorful, sleek, and appealing user interface, making project management fun and interactive.
Comes with a steep learning curve compared to other tools, but the enhanced features facilitate project management once clear.
Available as both desktop and mobile applications.
Provides in-built support for popular APIs and applications, including Zapier, Workato, Automate.io, and more, along with 1000+ websites, such as Asana, MailChimp, GitHub, Slack, and more.
Airtable is a flexible and creative project management software for teams of all sizes.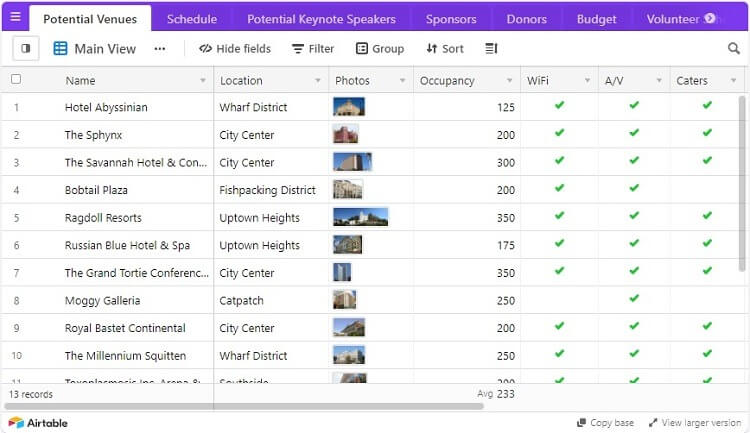 6. Notion
The Notion is an easy-to-use and customizable connected workspace platform that provides a bird's eye view of all the project's tasks and what the team members are working on.
You can create a Project Roadmap, add Timelines and due dates, and track Projects, making it easier to track projects and their progress in one space.
Notion Features:
Provides several templates to use on a single page or different pages.
Ability to collaborate and share a Notion space with five members with a free plan.
Enables real-time collaboration.
Available on desktop, web, and mobile applications.
Provides bulk export options.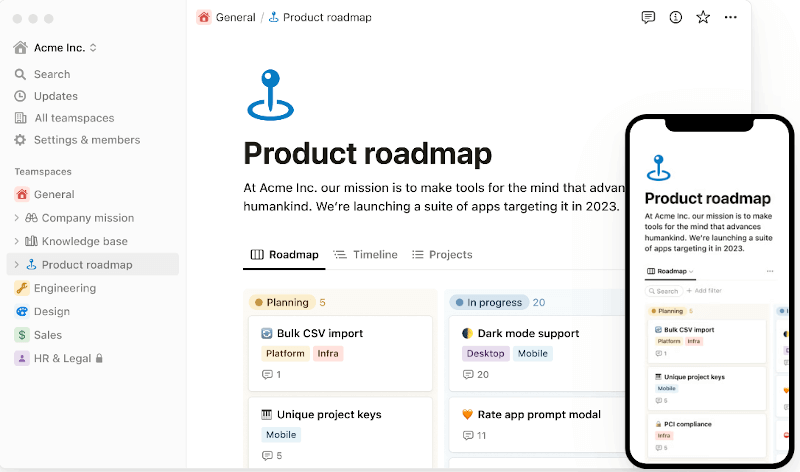 7. Teamwork
Teamwork is an excellent beginner-friendly project management software that doesn't come with any learning curve for project managers who want to maximize project communication and collaboration.
You can browse multiple projects and track the progress with advanced features, from tracking to budgeting to resource allocation for high efficiency.
Teamwork Features:
Provides a task list template library.
Visibility to see who viewed certain files and when.
Provides premium billing and invoicing features.
Provides custom fields on tasks, projects, and files for seamless communication.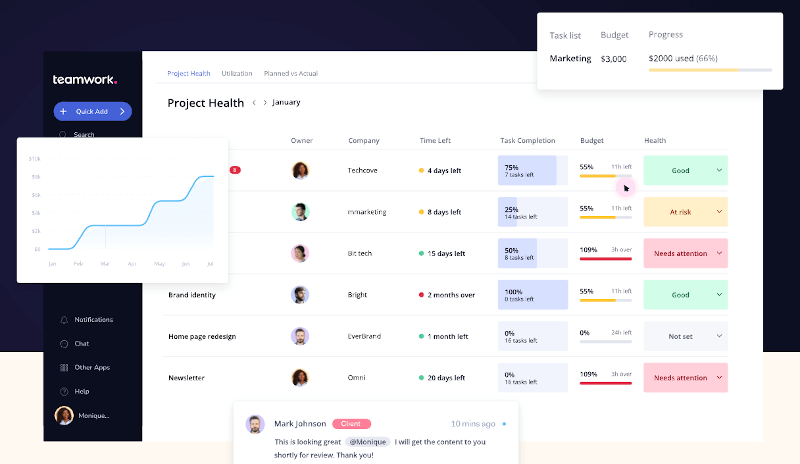 8. Asana
Asana is an efficient project management software that makes it easier to hit goals and improve project and work efficiency, even if the deadlines or priorities shift. Thus, it's a perfect tool for deadline-focused teams.
It has a bit more learning curve than the other tools, but once you get the hang of it, Asana makes life easy for project managers.
Asana Features:
Provides featured templates to meet customizable workflows.
Automates manual tasks, like assigning work and managing due dates.
The Asana App is available on Android, iOS, and Mac.
Provide integration with 200+ tools.
Moreover, Asana is ranked as the number 1 project management software according to the G2 rating.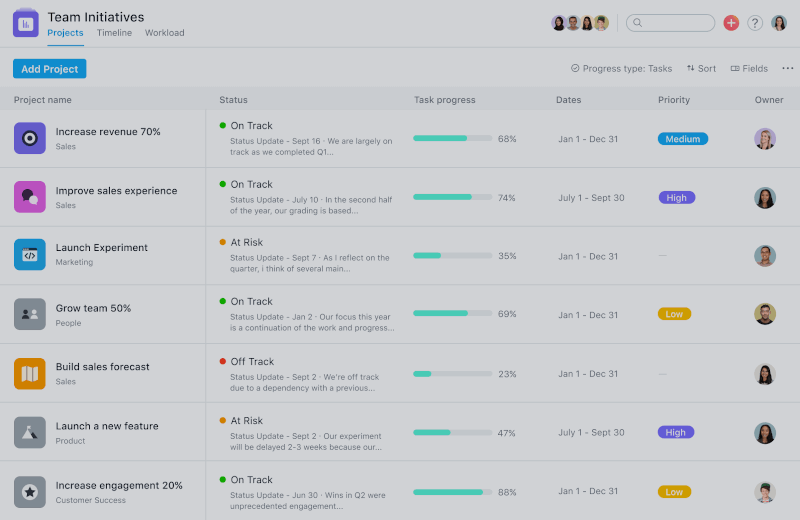 9. Hive
Hive enables seamless project management that facilitates project planning, tracking, and monitoring.
It provides four project views, including Gantt, Kanban, Calendar, and Table View.
Hive Features:
Provides the flexibility to track individual tasks.
Hive is available as a mobile application download.
Integrates with around 1000+ communication and marketing applications, including Gmail, Google Drive, Microsft Teams, Salesforce, and Github.
Besides you can also import other project management software, like Asana and Trello.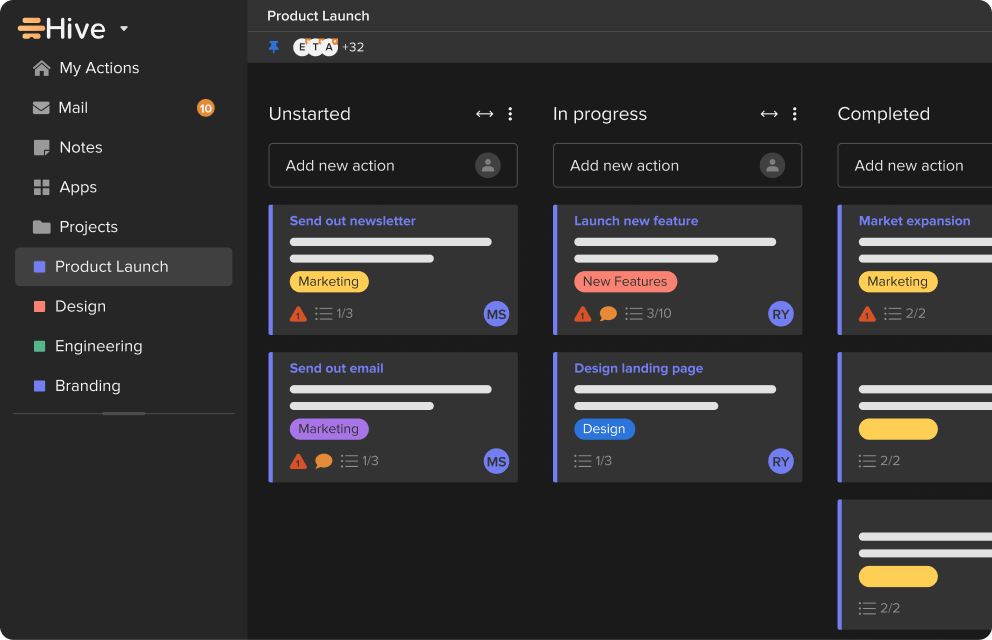 10. TimeCamp
TimeCamp, as the name suggests, is a project management software primarily focusing on boosting the project's profitability through easy time tracking and billing.
It's a simple and efficient time-tracking tool that streamlines daily workflow issues and offers unlimited users, tasks, and projects.
TimeCamp Features:
Tracks employee's time manually or automatically in a graphical or calendar view.
Makes project time and budget tracking easier by analyzing reports.
It helps check control assistance and timesheets in one place.
TimeCamp is a perfect project management solution for marketing agencies, designers, accounting, and IT and software houses.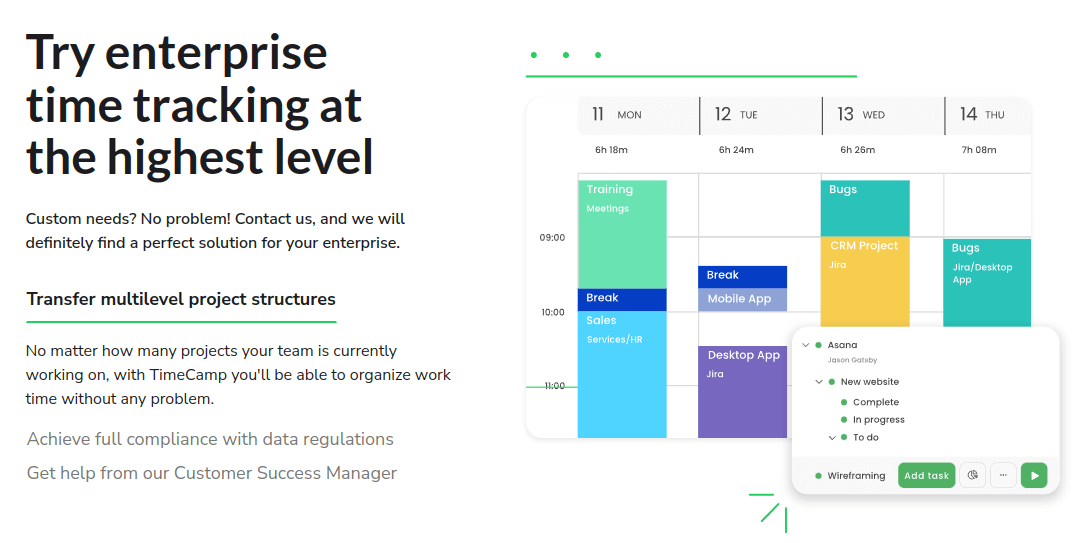 11. Backlog
Backlog makes project management a breeze with its all-in-one solutions that ensure seamless collaboration and consolidation.
It makes visualization of the entire project timeline easier with Gantt charts and provides burndown charts to see the pending work at a glance.
Backlog Features:
Provides task hierarchy to nest tasks to stay organized.
Automates issue creation with an email address.
Track and organize updates, releases, milestones, and project versions.
Flexibility to create custom fields and categories that best suit the team workflow.
Backlog provides integration with multiple tools, like Slack, Typetalk, Cacoo, Jenkins, Webhook, Email Importer, and more.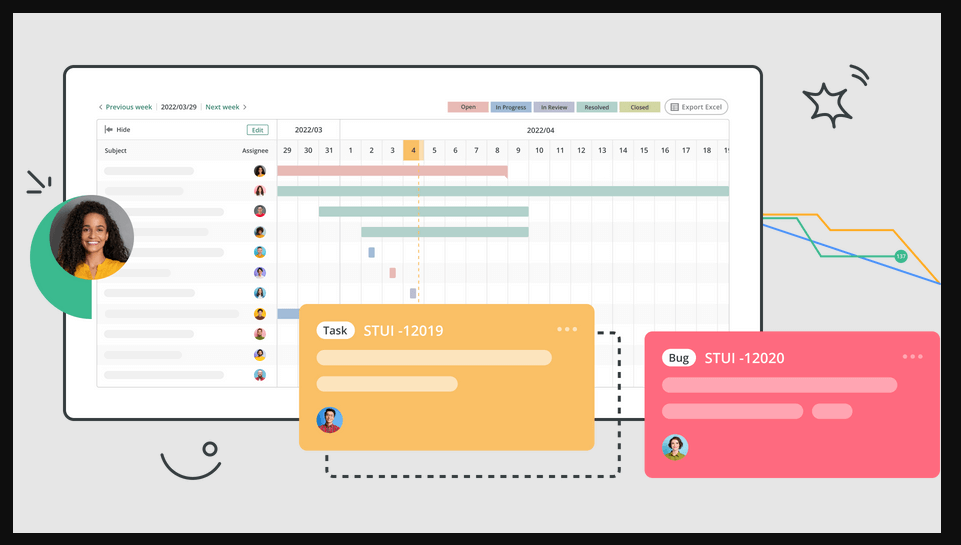 12. GanttPRO
As the name suggests, GanttPRO is an online project management software based on Gantt charts, ensuring team engagement and making project planning as simple as possible.
It's a lightweight and intuitive project management software that provides several tools to streamline projects. The Gantt charts provided by GanttPRO offer a clear vision and perspective of a specific project, including the team member's tasks, priorities, and deadlines.
GanttPRO Features:
Provides custom fields for attributes like things to complete, priorities, etc.
Provides time tracking and time log reports.
Offers a library of pre-configured and custom project templates.
Features a Kanban board view.
GanttPRO provides 24/7 email support, real-time synchronization, and automated change histories.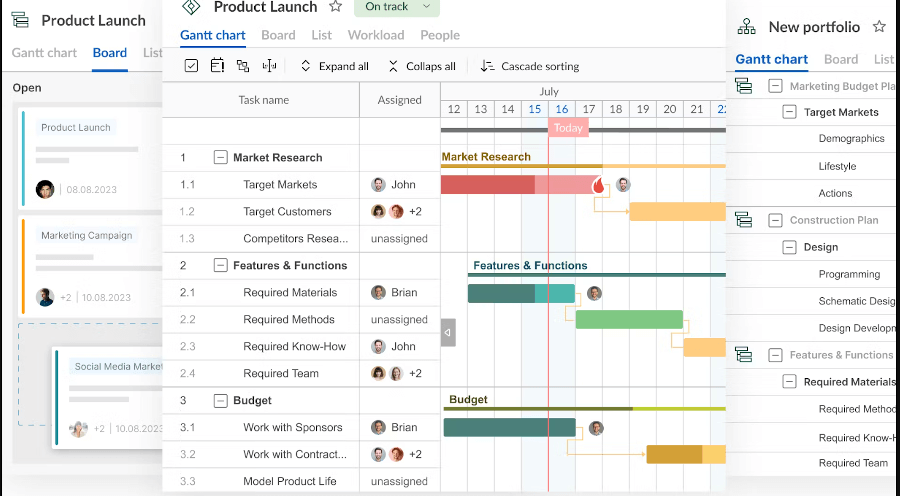 13. Planio
Planio is a lightweight project management solution based on Redmine that helps you manage the project from beginning to end.
It helps project managers track, allocate, prioritize, and set deadlines for the project tasks. It also provides the flexibility to track metrics like time spent, work done, subtasks, and bugs and issues.
Planio Features:
Ideal for agile project management, traditional project management, time tracking, file storage, and repository hosting.
Provides auto-generated Gantt charts about the project's progress.
It's available as a mobile application.
Additionally, Planio offers a role-based access model providing complete control over the task owner and how they work.
14. ProofHub
ProofHub is a popular and robust project management software trusted by some top global companies, like Netflix, Nike, Nasa, Disney, and Marriott International.
It makes planning, tracking, and managing projects of any size, providing features like Forms, Custom fields, Workflows, Dependencies, and more.
ProofHub Features:
Integrates with popular platforms like Google Drive, Slack, Salesforce, and more.
Facilitates project proofing and approval, providing actionable, clear, and instant feedback.
Provides custom project templates by adding discussion topics, task lists, notes, and timesheets.
ProofHub lets you personalize your project account with white labeling, ensuring a consistent brand look and feel with a custom logo, domain, and colors.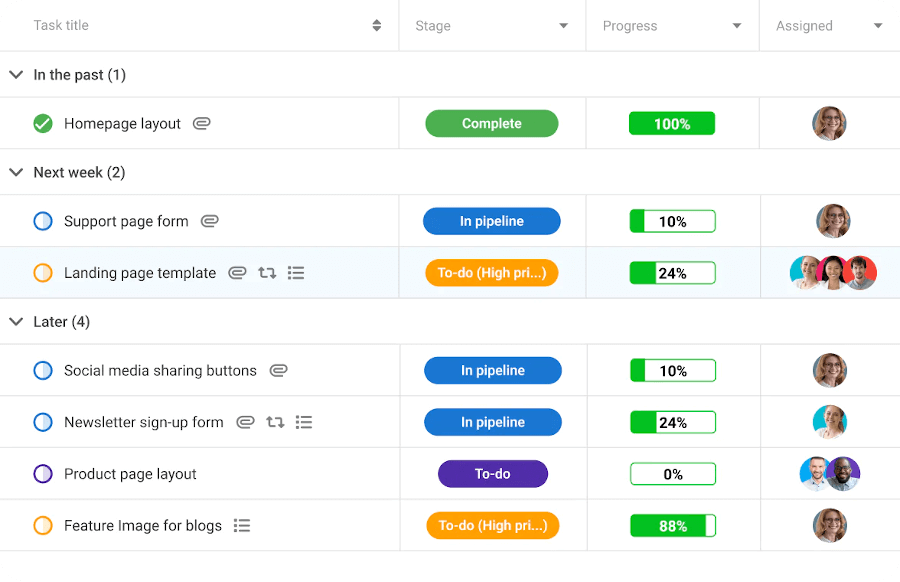 15. ProProfs
ProProfs Project makes managing projects online easy, ensuring timely delivery, seamless collaboration, setting due dates, prioritizing projects, and tracking progress.
It provides 360-degree visibility for projects with 24/7 remote access.
ProProfs Project Features:
Automates task assigning, scheduling, and planning tasks.
Provides a Calendar to make task scheduling easy.
Provides a kanban board to ensure a seamless drag-and-drop experience.
The unique feature of ProProfs Project is the powerful reports and analytics, breaking down your project's status.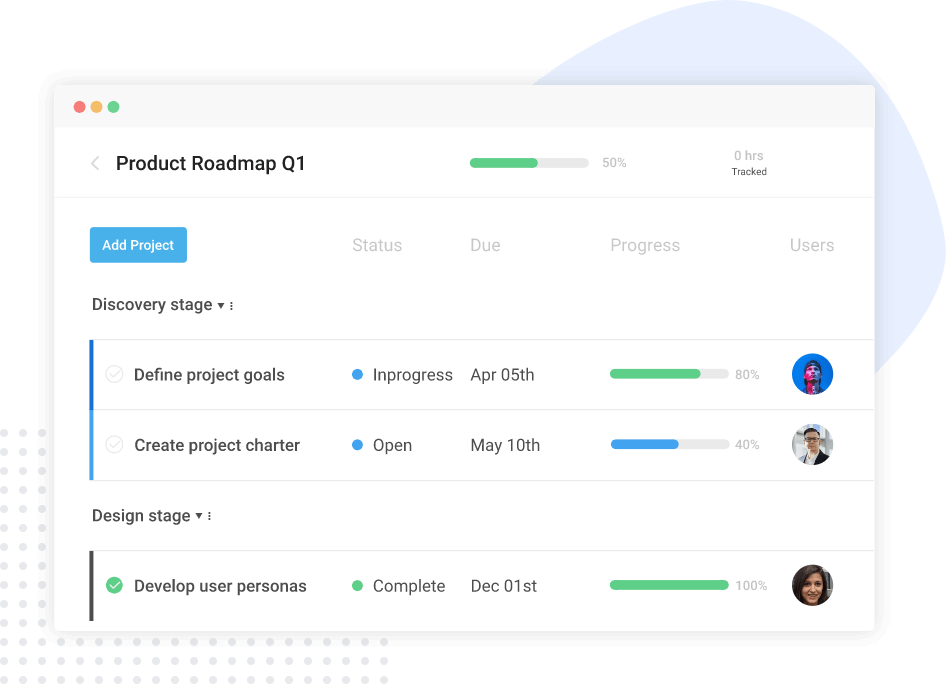 16. Kinstone
Kinstone is an excellent, powerful, customizable workflow management platform that lets you manage your team's tasks, data, and communication in a central platform.
It allows you to organize your tasks and workflows into easy workflows with automated approvals, reminders, and task handoffs.
Kinstone Features:
Provides project management solutions for multiple departments, industries, functions, and problems.
Provides an app template library.
Set granular permissions to choose who can access data records and critical files.
Kinstone also provides several third-party extensions and services, including plugins and APIs.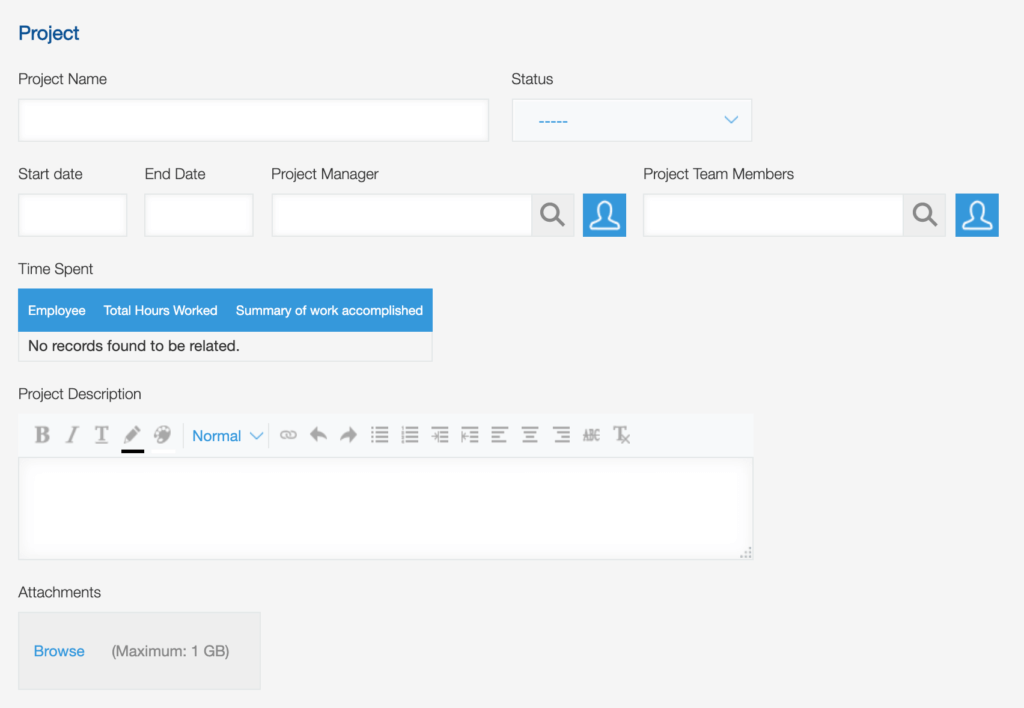 Conclusion
The project management software is anticipated to grow at a CAGR of 10.67% between 2022-2030, reaching $15.06 billion by 2030.
This shows the growing popularity and how organizations rely more on project management software to streamline project planning, communication, workflows, objectives, and dependencies.
Whether an IT manager managing a project or a freelancer managing multiple client projects, project management software can help you avoid project chaos, confusion, and scope creep, keeping all the stakeholders on the same page.
So, try the project management software mentioned in this article to ensure a hassle-free project management experience for your next campaign.