Billions of images and media are present on the internet, and up to 3 billion images are shared on the web daily.
How do you verify and find the original source of those images, especially when you want to use them for official work or within your content?
For instance, whether you're a content writer, a marketer, or a business owner, finding and adding images to your content or website with their source is crucial to avoid copyright issues and determine usage rights.
At the same time, not all images you find on the internet can be original. For example, there can be duplicate images, manipulated media files, stolen art images, and more. In such cases, scoring through the web to verify an image's source can get cumbersome.
This is where a reverse image search tool comes into play.
What is a Reverse Image Search Tool
Reverse image search is a process that helps search an image's original source or from where it originated and is posted on the web first.
Several reverse image search tools are available that use algorithms to recognize and scan images based on their size, color, shape, and other unique and essential features to find their source.
Similarly, specific image reverse search tools are also designed with facial recognition that helps search sources for images for specific people.
Benefits of a Reverse Image Search Tool
You can use a reverse image search tool for multiple use cases besides determining an image's original source. For example, some use cases include identifying fake news, determining if other websites use your copyrighted images without permission, verifying an image's authenticity, identifying a particular person or getting their contact details, and more.
Thus, an image reverse search tool provides multiple benefits, including.
Time efficiency, removing the need to search for an image source manually.
Find more information and details about unknown products and objects.
Find royalty-free images that you can easily incorporate or use for your work.
While these are a handful of benefits and use cases, you can use a reverse image search tool for other purposes without spending a penny.
Best Reverse Image Search Tools
So, if you're all onboarding towards using and exploring this tool, let's look at some of the best image reverse search tools you can use to save time and avoid legal conflicts.
1. Reverse Image
The Reverse Image is an intuitive tool that allows you to upload any image on the platform for reverse search and choose a desired search engine, like Google, Yahoo, and Bing, to help find visually similar images across the web.
Reverse Image Search Features:
It provides an option to import images through your iPhone's photo library, paste the web URL, or take a live picture to identify the image object and get detailed information through the topmost search engines.
It lets you crop the image to focus on a particular object, making it easier and more efficient for the tool to identify image objects and show relevant results on search engines.
You can use this tool on the web or on your iOS device.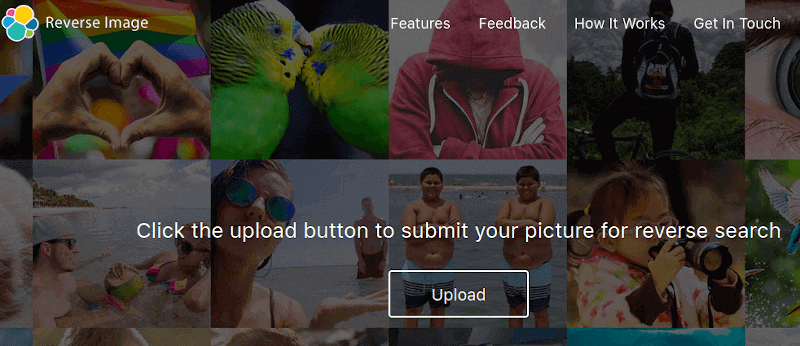 2. TinEye
TinEye is another crucial reverse image search tool that makes looking for images online a breeze.
You can use the online tool or add the TinEye extension to Chrome, Firefox, Opera, or Edge browser.
TinEye Features:
Upload an image or paste the URL to get details about the image.
Provides a range of computer vision solutions, like image verification, visual inspection, image review and moderation, and fraud detection to make your images more searchable.
Offers a range of industry-leading products with accurate image recognition APIs, including advanced image identification, image tracking, label matching, color search, mobile image recognition, and more.
Thus, TinEye is one of the most valuable and robust reverse image search tools with automated image verification and moderation that some leading companies, like Trader, Thales, and Booking.com, trust and use.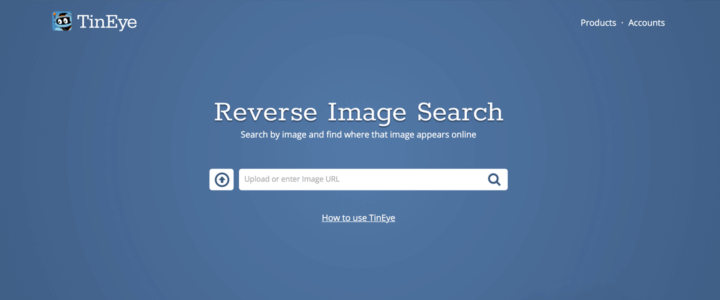 3. Pixsy
Pixsy is a secure and robust reverse image search tool that allows you to identify and eliminate image theft, making it easier to see where your images are used online.
It uses a powerful and advanced image scanner and AI algorithms to find your image's accurate matches online, allowing you to take legal action against copyright infringement.
Pixsy Features:
It monitors over 150,000,000 images daily and has found 300,000,000 matches online to identify where your images are used unauthorizedly.
It has caught and managed 125,000 infringement cases and recovered compensation.
It integrates with several copyright offices and institutes across the globe, making it easier to officially register your images or work with the local government authority.
Thus, if you're looking for a tool that helps you protect your visual work and content and identify unauthorized use of your images online, Pixsy is an excellent solution.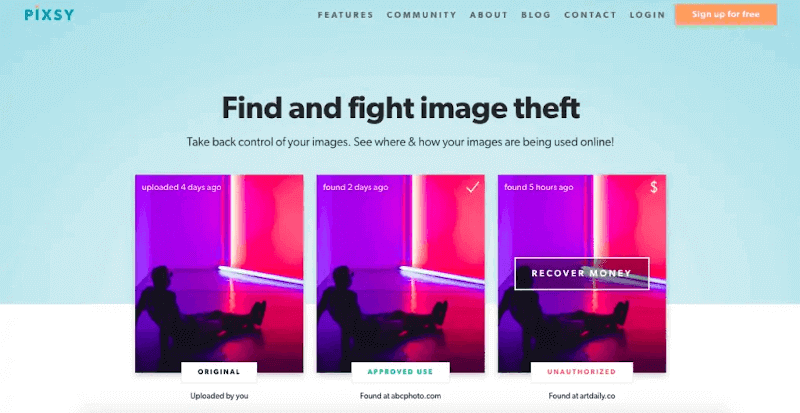 4. Reverse Image Search
Reverse Image Search makes finding images online easier with search engines like Google, Yandex, Baidu, and Bing.
You can paste the image URL, upload an image from your local device, Google Drive, or Dropbox, or even capture an image using your device camera to identify where images appear online.
The steps to use the tool are pretty simple. First, you must upload your image and click the 'Search Similar Images' button. Then, you must choose a search engine and click 'Explore Images' to get similar image results on different search engines.
Reverse Image Search Features:
Search similar images with lightning-fast speed.
Consists of a massive database that helps you find super-fast matching results quickly, as its platform is based on the CBIR query tool.
Its advanced content-based image retrieval technology provides secure and reliable image recognition solutions that streamline data verification within the image.
Thus, the Reverse Image Search tool ensures 100% reverse image accuracy, allowing you to use the tool an infinite number of times with no cost, daily usage capacity, or API limits.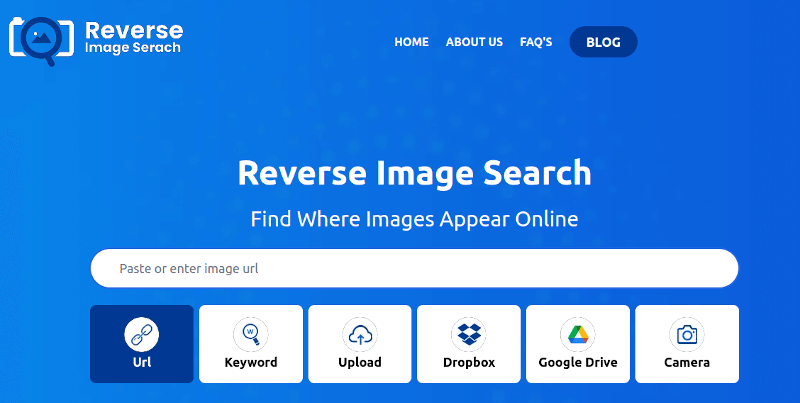 5. Google Image Search
Lastly, Google Image Search is one of the most feasible, easiest, and most effective reverse search engine tools that's a go-to image search tool for everyone using the web.
You can drag and drop the image, upload the image, or paste the image link and click on the 'Search' button to perform a reverse image search.
Google Image Search Features:
It helps you find the exact image match with details like size and copyright.
Highly intuitive, user-friendly, and free to use.
Requires no login or sign up to a service.
You must note that you can only use this feature on your desktop, as you can't paste URLs or upload images using your mobile devices.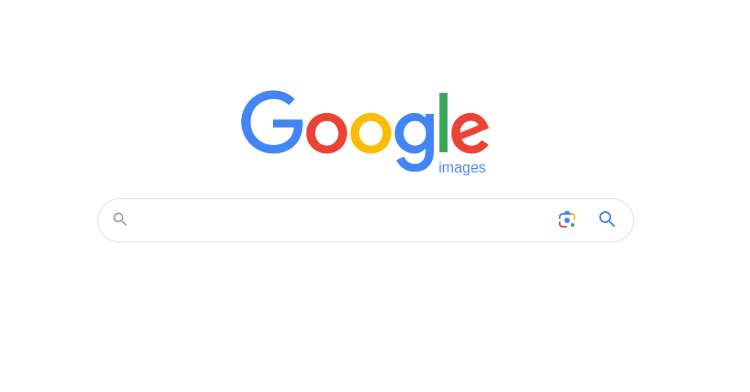 6. Yahoo Image Search
Yahoo Image Search is another solution to find images you're looking for and their original source.
However, one of the cons associated with this tool is that you can't upload an image or paste an URL to find the source. Instead, you'll have to look for relevant images manually.
Yahoo Image Search Features:
Works similarly to Google Image Search but displays different results.
Allows you to add the original image's file name or metadata to scan through the results or database and find identical matches.
Comes with no learning curve and is highly beginner-friendly in nature.
While Yahoo Image Search isn't as effective as the other reverse image search tools mentioned, its intuitiveness is worth giving a shot.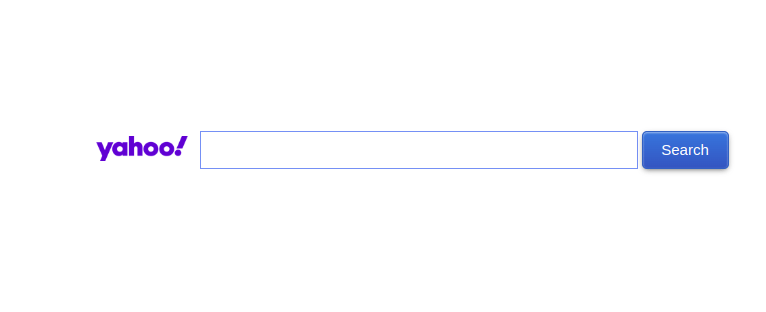 7. Bing Visual Search
Bing Visual Search is another beginner-friendly reverse image search tool that comes with high browser compatibility. It's a great tool to see if any other website or competitor uses your images without permission.
Bing Visual Search Features:
Provides options to upload images, take photos, paste URLs or images, or find an image on the web.
Outputs information related to web pages the image is present on, similar images, and related searches.
Only compatible with iOS or Apple devices.
You can also use the tool's text mode to easily find image aspects like objects and landmarks.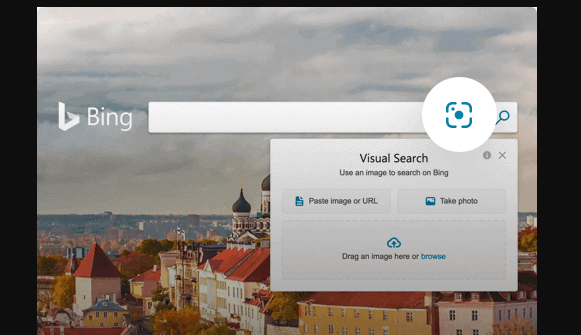 Conclusion
Many writers, marketers, and professionals aren't aware of these reverse image search tools and spend valuable time manually searching through the web to find a relevant image source.
So, check out the reverse image search tools in this article geared toward specific use cases and industries, including tools for enterprises, tools to avoid legal copyright issues, and tools offering a vast image collection.
So, explore and use the best reverse image search tool that meets your needs to make finding an image source effective and time-efficient.