The global web hosting market is anticipated to grow to $267.10 billion at a Compound Annual Growth Rate (CAGR) of 18% by 2028.
Whether you're a business owner, a local business owner, or a blogger, having a credible online presence is necessary for your business growth. And choosing an ideal web hosting solution will help you take your website online and make it available to users.
Web hosting is an online solution that allows you to publish and post your website or web application online to users.
While multiple paid and free web hosting services are available from several reliable web hosting providers, choosing one that efficiently meets your needs and fits within your budget is crucial.
When starting with minimal users or customers, you can accept less traffic on your website. In such cases, instead of investing in a paid web hosting solution, you can opt for free web hosting that will help you make your website accessible to the internet for free.
In this article, we'll look at the different free web hosting solutions you can choose for your website. Let's dive right in.
1. WordPress
WordPress offers simple and best-managed web hosting plans with high performance and advanced features, like high-frequency CPUs, automated burst scaling, superior image management, and a global CDN with 25+ WordPress data centers.
It also offers enhanced security features, like WAF and DDoS protection, malware scanning and removal, automated activity log, and a free SSL Certificate.
WordPress Hosting Features:
Real-time backup service with one-click restoration.
Provides unmetered bandwidth and traffic.
Ensures 99.999% uptime for your website.
Offers expert support.
Supports over 50,000+ themes and plugins.
Supports multi-site management with its unified Sites page.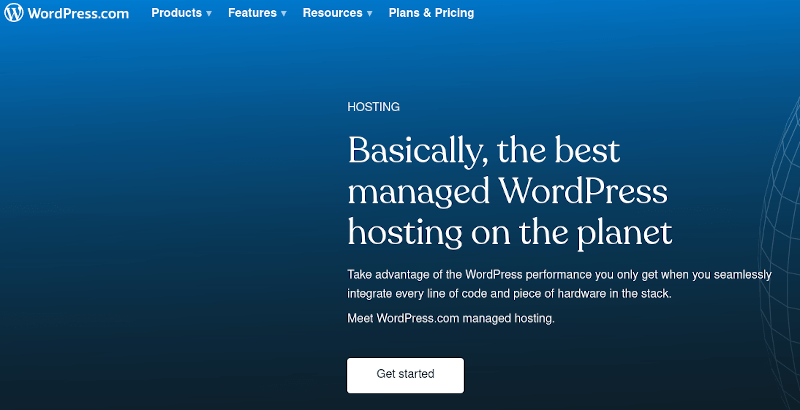 2. InfinityFree
InfinityFree offers free website hosting with no ads on your website. You can host multiple websites for free with InfinityFree with no limits whatsoever. It offers fast speed and 99.9% uptime and doesn't place any ads on your website.
Besides, it also lets you bring your own custom domain or choose from free subdomains from 25+ extensions.
InfinityFree Features:
Offers unlimited bandwidth, 5 GB disk space, and complete .htaccess support.
Supports MySQL 5.7, PHP 7.4, and 400 MySQL databases.
Provides free SSL Certificates, free DNS service, and free subdomain names.
Allows you to install 400+ applications with the Softaculous Installer.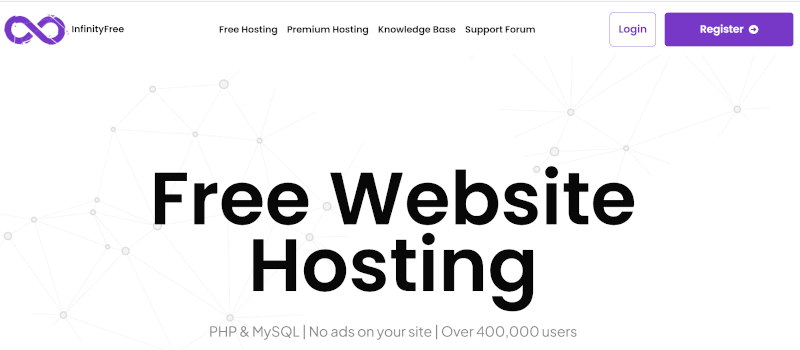 3. FreeHosting
FreeHosting offers free website hosting with all the necessary tools and features to create your website. Besides free hosting, it also offers domain registration for domain names in New gTLD and gTLD zones.
It also offers an intuitive and industry-leading free cPanel to make account management a breeze.
FreeHosting Features:
It provides a site builder with an intuitive user interface that makes it easy to create websites and use drag-and-drop to place content blocks correctly.
Provides 350+ applications with the single-click app installer in an automated manner.
Provides website creation tools, like Dreamweaver, and other necessary resources, tools, and step-by-step instructions to start web hosting.
The tool is completely ads-free and supports multi-site hosting.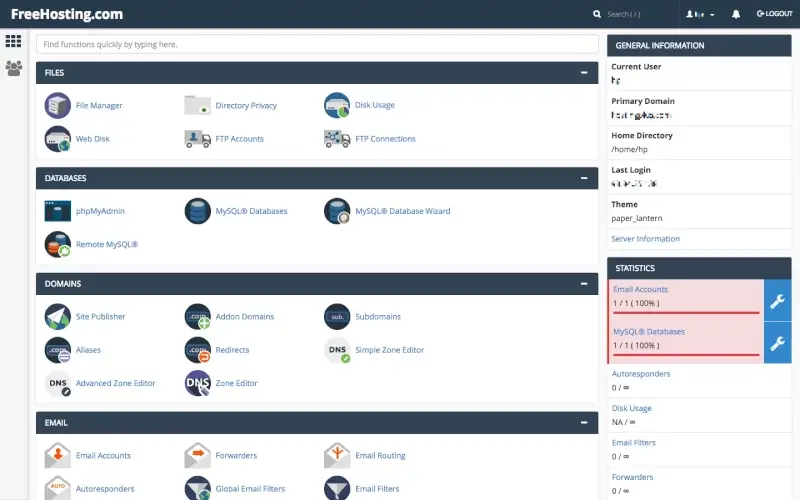 4. AwardSpace
AwardSpace offers free web hosting with a free subdomain, MySQL, PHP, Email Sending, App Installer, and no ads, making web hosting highly convenient and reliable.
You can host up to 2 websites with the free web hosting plan and leverage unlimited disk space and monthly traffic. Besides, you also get free HTTPS and SSL, a 1-hour response time, and 24/7 reliable support with AwardSpace's free web hosting service.
AwardSpace Features:
Ensures 99.9% network uptime with the servers highly optimized for high speed and reliability.
Provides a free website builder, making building a dream website a breeze.
Comes with a one-click Zacky CMS installer.
Its free web hosting is best suited for small blogs, news websites, media, idea launching, and more.
Provides top-rated 24/7 expert support from highly technical experts.

5. ByetHost
ByetHost offers free web hosting services with hundreds of features, including MySQL, PHP, Email, FTP, site builder, Softaculous one-click installer, and more.
They maintain and manage their own load-balanced clustered hosting network. And this network consists of 24 Core CPU Xeon web servers, mail servers, a 'GRID' of MySQL servers, a Storage Area Network (SAN), hardware load balancers, and interconnecting Fiber channel distribution servers.
ByetHost Features:
1000 MB disk space
Provides subdomains, add-on domains, and parked domains.
Provides PHP support and MySQL databases.
Comes with free tech support.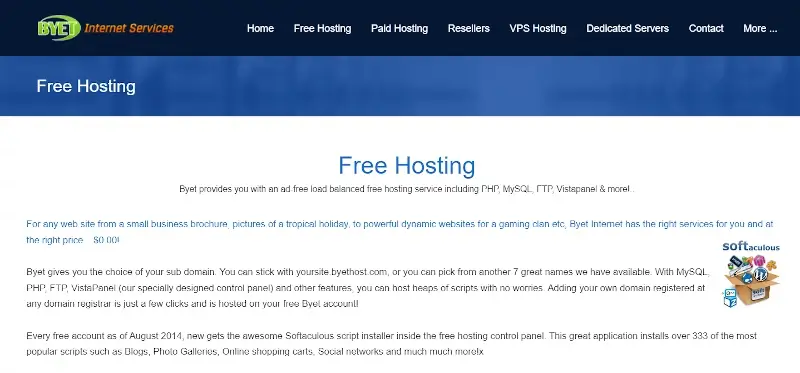 6. 000WebHost
000WebHost is a free web hosting service provider powered by Hostinger that comes with PHP, cPanel, MySQL, and no ads on your website.
With their web hosting plan, you get a limited bandwidth of 3 GB, 300 MB of disk space, and the ability to host just one website. Hence, compared to other free web hosting providers, you don't get 24/7 support, an email account, or multi-site hosting with 000WebHost's free web hosting plans.
000WebHost Features:
You can build your website with Hostinger's AI builder in a few clicks.
It provides a custom control panel with essential tools to manage your web hosting effortlessly.
You can leverage 99.9% uptime and experience fast-blazing website speed.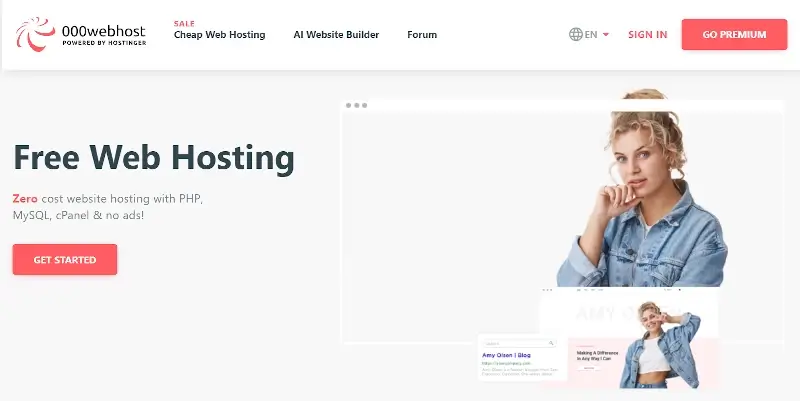 7. Wix
Wix offers free, reliable, scalable web hosting to build your website's online presence quickly. Besides offering credible 99.9% uptime, Wix's free web hosting also comes with advanced security monitoring with international standards security compliance and automatic website setup on purchase with no installation required.
Wix Free Web Hosting Features:
It hosts your website on a global Content Delivery Network (CDN), so it runs optimally for every user across the globe.
It ensures reliable and protected web hosting by managing every web hosting aspect and offering a high uptime guarantee and an automated backup solution.
It offers 24/7 security monitoring with HTTPS and SSL protection, DDoS protection, and extensive hacker testing, ensuring you can leverage secure and reliable servers for your website hosting.
You can leverage a professional email address and purchase a custom domain to boost your online credibility.
It provides built-in SEO tools and features, such as URL optimization, site infrastructure optimization, structured data markup, image optimization, bulk 301 redirects, and more.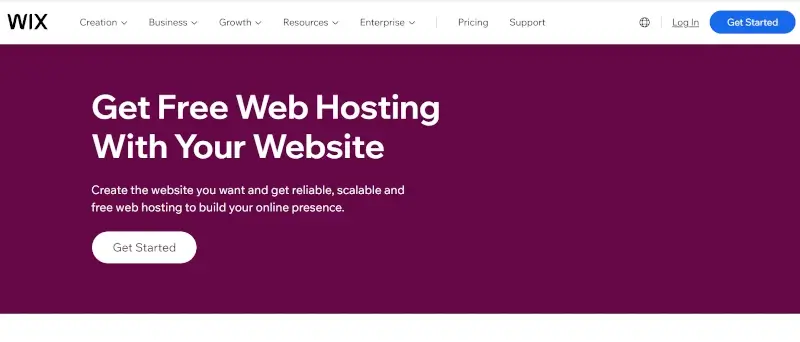 8. Google Cloud Hosting
Google Cloud Hosting allows you to host dynamic and static websites in the cloud with customized and easily deployable solutions.
It offers several web hosting services for multiple use cases, including hosting blogs, small websites, web applications, dynamic websites, eCommerce websites, and more.
Google Cloud Hosting Features:
It ensures high website speed and security through DNS servers that run via Google infrastructure.
Provides reliable 24/7 support.
Provides a professional email address to boost your brand credibility.
It lets you choose a suitable domain for your specific web hosting need, whether hosting a banking and finance website, a service and retail website, or a marketing and communications and technology and development website.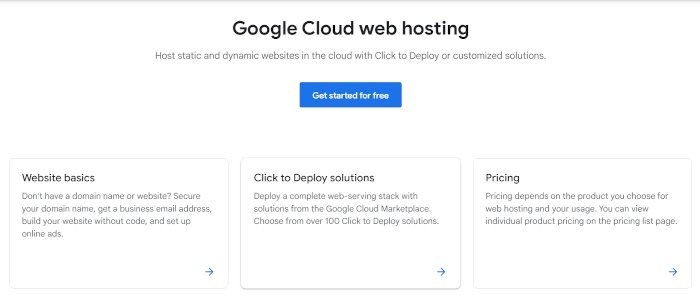 9. Weebly
Weebly offers free and reliable web hosting services offering faster speed and performance to host websites of all types and sizes.
It offers the most reliable redundant data center with a cloud-based infrastructure that helps ensure optimal performance and page loading speed to offer an exceptional online experience to your website, visitors.
Weebly Features:
It supports a modern and reliable web hosting infrastructure that hosts your website on a private server, eliminating downtime risks and slow speed.
It doesn't promote ads on your website when you build and hosts it through Weebly.
Weebly is used and trusted by more than 30,000,000 people worldwide.
It supports YouTube integration, enabling seamless video hosting and upload to your website so that visitors don't need to download video files and instead open the media player separately to view the videos.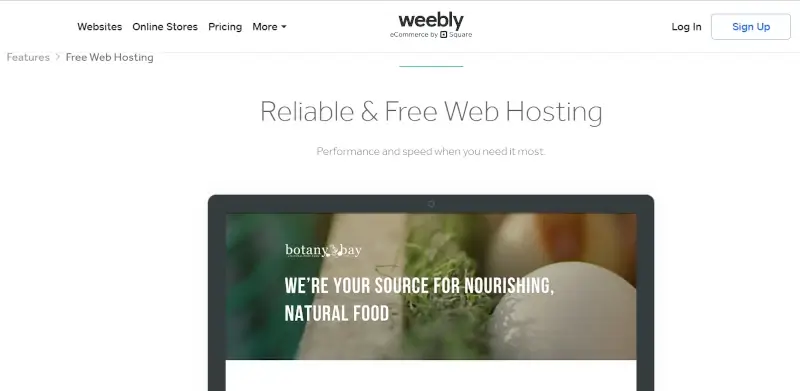 10. Namecheap
Namecheap offers a bundled website plan, offering web hosting plus a domain name to build an authoritative and credible online presence.
Thus, it makes taking your website online quick and easy with all-in-one web hosting solutions with free domain privacy, email, website builders, and SSLs.
Namecheap Features:
It offers an automatic DNS connection to ensure optimal speed and website performance.
Its primary goal is to ensure the utmost website privacy and security to help build a secure online presence.
It boosts your website's online presence with highly credible and industry-premium products and services at affordable prices.
It offers 24/7 professional and friendly support to assist you at every step of your web hosting journey.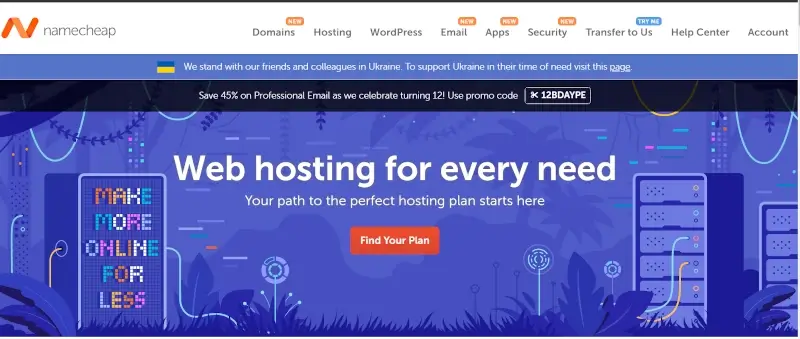 11. GoogieHost
GoogieHost provides free web hosting services with essential features, like 99.9% server uptime and LiteSpeed web server. Besides, it also provides NVMe SSD storage that helps boost your website's page speed and performance.
GoogieHost Features:
It provides a free Let's Encrypt SSL Certificate with no hidden terms or charges.
You can host up to 3 websites with the free web hosting plan.
It offers up to 100 GB of bandwidth, 1000 MB SSD storage, business email, MySQL and FTP account, and WordPress Manager with the free web hosting plan.
It ensures the utmost server and website security with secure CloudFlare and Hotlink protection.
It offers the maximum range of features, like a free cPanel and malware protection, with the free web hosting plan compared to other free hosting providers, such as Wix, Weebly, and Infinityfree.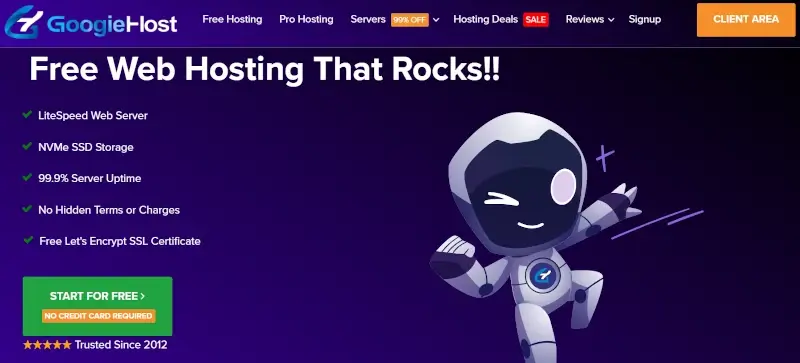 12. HyperPHP
HyperPHP offers the ultimate web hosting plan with unlimited space, database, bandwidth, a Softaculous script installer, and automatic self-signed SSL.
HyperPHP Features:
It offers 1000 MB disk space, a control panel, an FTP account and file manager, MySQL databases and PHP support, and more reliable features with the free hosting plan.
You also get an addon domain, parked domains, and sub-domains for your website free of cost.
Other critical free web hosting features include free tech support, Webmail email accounts, SPF records, cron jobs, clustered servers, and more.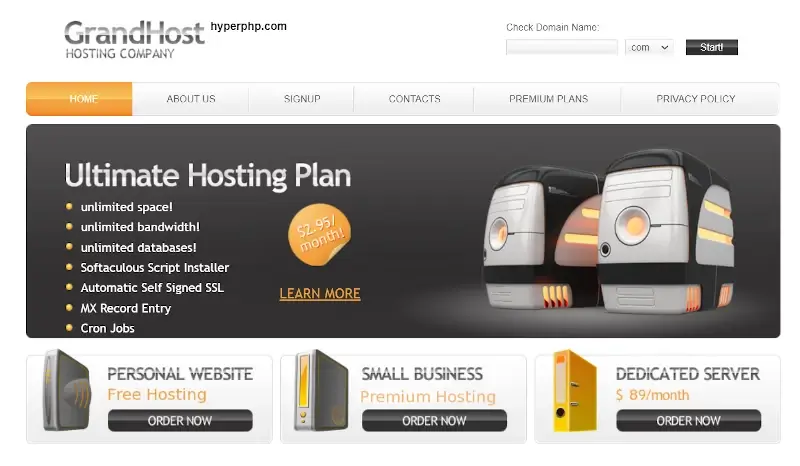 Conclusion
Free web hosting is an excellent choice for beginners and small websites when they are at their initial stage of website hosting. When your website is new and at the initial stage, receiving less traffic, leveraging free web hosting plans is one of the most reliable choices.
You get essential features with reliable free hosting providers, like a free cPanel, SSL, domain, disk space and bandwidth, and more to support your site's online presence.
Disclosure: This post may contain affiliate links. If you click on an affiliate link and make a purchase, we may receive a commission at no additional cost to you. We only recommend products or services that we believe will add value to our readers/viewers. We appreciate your support in helping us continue to provide valuable content.