Testing and comparing your hardware or device performance is essential, especially when building your PC or upgrading your computers.
PC benchmark software allows you to compare hardware processors and options to measure your desktop's productivity and overcome and diagnose issues related to hardware components.
For instance, if you're a gaming enthusiast who recently upgraded your gaming PC with a new CPU and graphics—you can use a PC benchmark software to evaluate your gaming computer's overall performance and determine if the upgrades work efficiently or encounter any issues.
Thus, it helps you test aspects like CPU, SSD, GPU, temperature, thermal throttling, and overall system stability.
Besides comparing software performance, you can also use PC benchmark software to test if a specific hardware component can withhold specific overload or test the processing of new equipment as promoted.
Thus, PC benchmark software will allow you to draw key comparisons between hardware and software processors, making boosting the performance, speed, and efficiency of your CPU chipset and PC easier.
In this article, we'll learn more about the importance of software benchmarking and the different tools you can use to do the same. Let's go!
Why Use a PC Benchmark Test Software
Benchmarking plays a huge role in analyzing a system's and hardware's capabilities, providing multiple benefits such as.
Running standardized stress tests that help gain detailed results about how the software or hardware configurations work during workloads.
Performing system stability testing that helps identify overheating issues, instability issues, or lack of cooling solutions, pushing computer systems to their limits.
Assessing gaming requirements or performance and stability gains for gamers and overlockers to identify performance bottlenecks.
Tracking performance changes with time helps understand how the hardware ages, and its wear and tear period, aiding better-informed decision-making about future hardware purchases and ensuring longevity and compatibility.
Thus, PC benchmark software is not just beneficial for individuals or gamers but also for working professionals or industry experts that assist in performance evaluation, stress-testing of the systems, confidence in upgrades, and optimization.
8 Best CPU Benchmark Software
Now, let's look at some of the top PC benchmark software you can use to achieve these benefits.
1. Cinebench
Cinebench is an excellent tool for evaluating your hardware component's capabilities. It's a real-world cross-platform tool that you can add to your testing hardware and determine its capabilities.
As a system administrator, you can use Cinebench to make accurate purchase decisions or optimize the latest products as a hardware manufacturer.
Cinebench Features:
Provides real-world benchmarks to measure the system performance.
It uses a 4D image rendering test to grade OpenGL and CPU performance.
Its comprehensive 4D rendering evaluation uses available CPU cores, stressing it to its maximum limit.
Thus, Cinebench is a perfect tool to test high-end hardware or computers.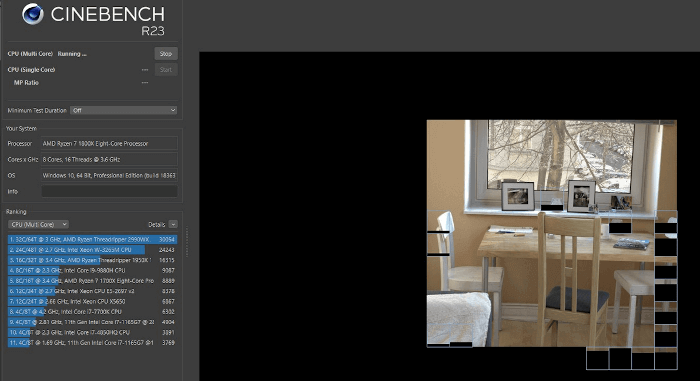 2. Geekbench ML
Geekbench is a cross-platform benchmark tool that measures your hardware performance with a single click.
It will give you an idea of the maximum limit you can push your mobile and desktop devices and compare their capabilities with the latest or newest devices.
Geekbench Features
Ability to measure your CPU, NPU, and GPU computing performance.
Flexibility to compare system performance across any device, as it supports iOS, Android, Windows, macOS, and Linux.
Measures your system's or device's Machine Learning performance.
Thus, Geekbench makes evaluating whether your systems are ready and compatible with the latest cutting-edge ML applications easier.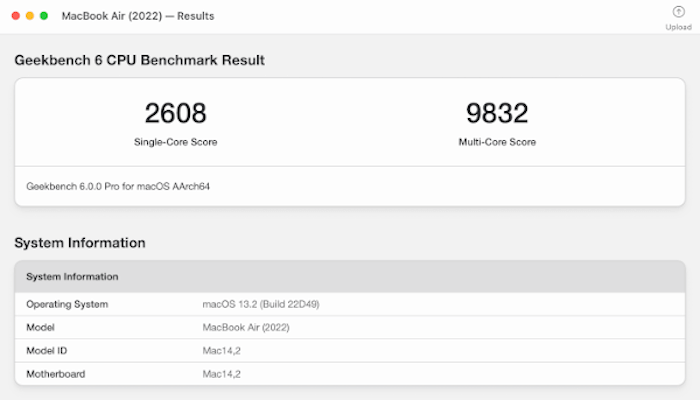 3. Novabench
Novabench is a modern device benchmark software that helps you accurately and quickly test your performance.
You can compare millions of results and test the performance capabilities in minutes.
Novabench Features
Perform system monitoring by tracking power and temperature during testing.
Best-suited by global IT enterprises.
Used by multiple global organizations, including Siemens, Nasa, and Canon.
Novabench is highly compatible with platforms like Linux, Mac, and Windows, whether you want to test the systems' CPU, GPU, storage, or memory.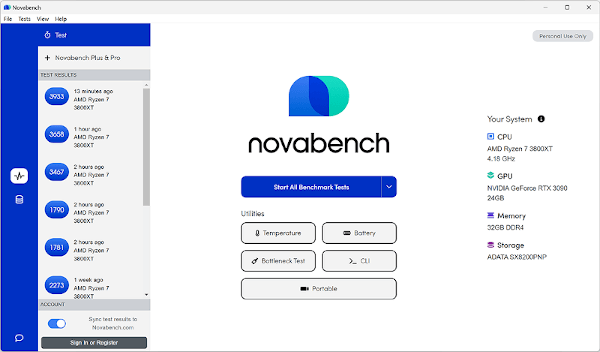 4. PassMark
PassMark is a user-friendly and intuitive PC benchmark tool for Linux, Windows, iOS, and Android.
You can compare the hardware with millions of computers through PassMark's searchable baseline database.
PassMark Features:
Performs extensive CPU testing by executing complex mathematical calculations, like encryption, compression, and physics simulations.
Ability to measure the performance of the 3D graphics hardware on your computer, supporting DirectX 9 to DirectX 12.
Perform in-depth advanced testing with advanced configurations, including CPU, memory, networking, disk, GPU computing, and visualized physics.
With PassMark, you can leverage free technical support and software upgrades for at least 12 months.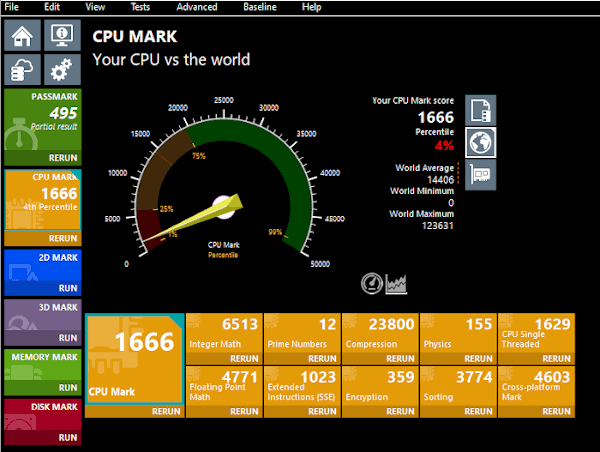 5. PCMark 10
PCMark 10 is a fast and easy benchmark software for Windows 10 that covers a wide range of options to perform performance tests, including battery life profiles and new storage benchmarks.
PCMark 10 Features:
Ability to test and compare the latest SSDs with specific and dedicated storage benchmarks.
Takes half the time to perform system benchmark performance than the original tests.
Helps you measure system benchmarks for multiple use cases, including gaming and digital content creation, and boost overall system productivity.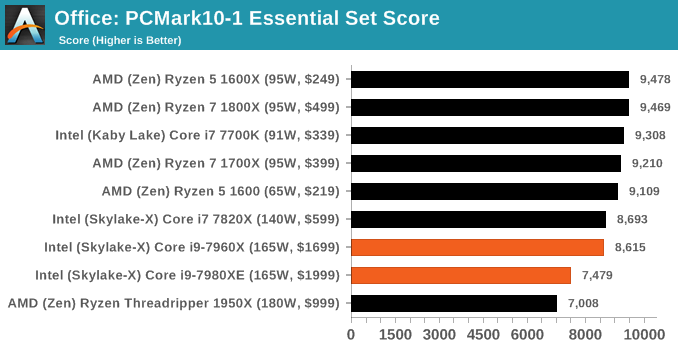 6. UserBenchmark
If you want to perform your PC's or computer's speed test, UserBenchmark is the perfect tool to use.
PC UserBenchmark Features:
The CPU tests include floating, string, and integer, and the GPU tests include six 3D game simulations.
The RAM tests include single and multi-core latency and bandwidth.
Helps you identify your computer's strongest components.
Thus, this is an ideal tool for performing system tests for Gaming, pro gaming, and Desktops.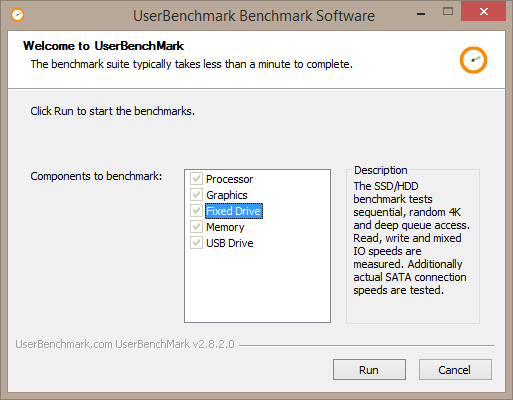 7. MSI Afterburner
MSI Afterburner is a popular software for individuals willing to overclock their graphics card.
However, the main con of this tool is that it's wholly and primarily GPU-centric, with no support to perform CPU tests.
MSI Afterburner Features:
Provides an on-screen display at the corner of the screen, providing real-time details and information about your system's performance.
Allows you to monitor your hardware by exploring and exceeding the limits of your graphics card settings and determining the ideal temperature and performance of the graphics card.
Flexibility to customize the pre-defined fan speed of the graphics card to avoid heat dissipation and determine cooling performance.
You can also optimize the gaming performance with the tool's game optimizer to enhance your overall gaming experience.
8. PC Benchmark
PC Benchmark is a free and lightweight benchmark application that helps you analyze how fast your computer is and how much you can improve its performance to achieve excellent results.
Based on the performance results, the tool also recommends actions to boost your system performance.
PC Benchmark Features:
It performs a series of tests to enable quick system diagnosis.
Shows your PC's current and potential system performance levels.
Helps you improve and optimize your system speed by recommending the right and relevant actions.
Thus, PC Benchmark is another critical, free, simple, and efficient system benchmark tool to boost the state of your PC.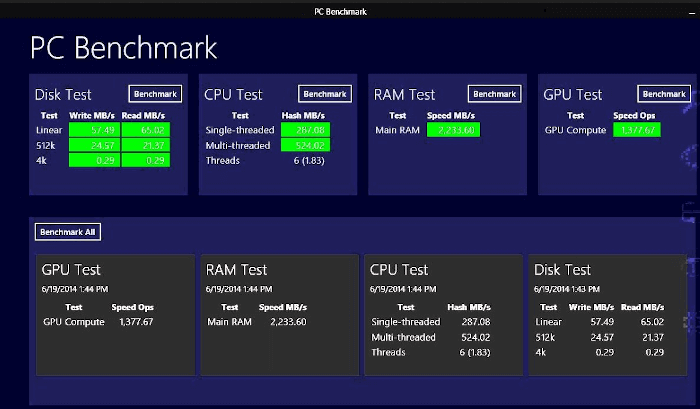 Conclusion
PC benchmark software helps you determine your system's true performance and potential level, allowing you to accurately measure your system performance and temperature to reach its maximum potential.
While several PC benchmark software is available, we have enlisted some of the top, widely popular, and efficient benchmark tools you can use per your specific needs and requirements.