Freelancing has been gaining popularity recently due to its independent nature and flexibility-allowing individuals to do the work they like remotely and charge for it per their expectations.
With over 1.57 billion freelancers across the world in 2023, industry studies suggest that the global freelance market is expected to be worth $1.5 trillion, increasing at a whopping 15% CAGR.
This growth and an increase in the global freelance market have been specially recorded since the COVID-19 pandemic—giving individuals enough time to explore their interests and turn them into a lucrative additional source of income through freelancing.
Freelance work can consist of several types of work, including content writing, web designing, web development, social media marketing, photography, software development, and more.
But how and where do you start freelancing? Where to search for clients to whom you can provide your freelance services?
The answer is freelance websites. In this article, we'll see what a freelance website is, its benefits, and the different freelance websites you can visit and try to bag valuable and reliable clients for your freelance business.
What is a Freelance Website
A freelance website is an online platform that enables you to look for a range of freelance job listings and apply for the ones that match your skills and expertise.
It acts as a directory for freelancers to easily search for work requirements to earn money online. Most freelance websites enlist the company name requiring the freelance services, the job requirement, the skills required, and the average pricing for that particular project.
Let's look at the top and most credible freelance websites to find work online and start earnings full-blown or an extra source of income.
1. Fiverr
Fiverr is one of the most popular platforms that helps you get freelance work for niches like digital marketing, writing and translation, video and animation, graphics and design, music and audio, and more.
It provides an intuitive and streamlined way for freelancers and businesses posting jobs to interact. Particularly on Fiverr, the freelancers are called sellers, businesses as buyers, and the freelance work/services as gigs.
So, Fiverr allows sellers or freelancers to sign up on the platform for free to post their gigs and mention the prices they charge—allowing buyers to reach out to them and seek their services.
The platform supports Windows and Mac devices and charges 2.9% on the project.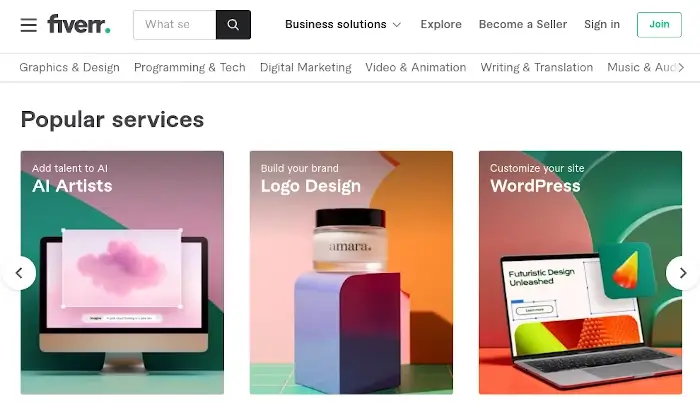 2. Behance
Behance is an ideal freelance website for individuals in the creative field, like freelance web designers, illustrators, mobile app developers, and animators.
Different from other freelance platforms, Behance is more like a social network for creative freelancers, allowing them to build, upload, and share their portfolios and get discovered by potential clients seeking freelance services.
In addition, it also provides a job list, providing a personalized job listing for each freelancer based on their skills—making it easier for employers to find the right talent.
3. Upwork
Upwork is another popular and one of the most flexible freelance platform allowing clients and freelancers from different categories, like web designing and software development, to connect.
For instance, clients can either reach out and purchase predefined freelance services or post a job on the platform. At the same time, freelancers can either offer a customized freelance service or apply and access the job through the job board.
The platform charges a commission fee of 20% on the project to the freelancers.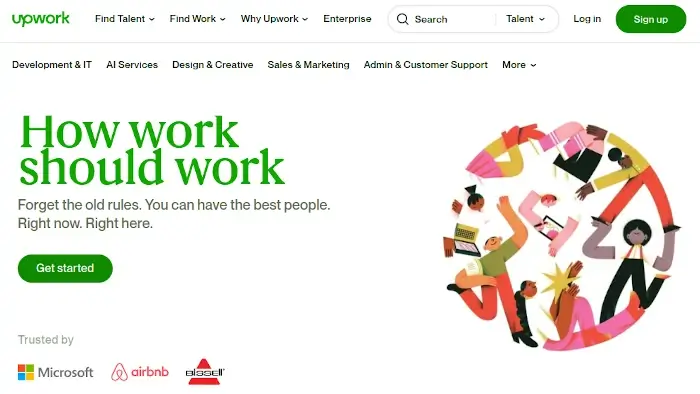 4. Freelancer.com
Freelancer.com is a popular one of the largest freelance marketplaces that allow clients and professionals to browse portfolios and hire the right talent that matches their expectations.
Clients can easily post jobs and hire freelancers from 1800+ skills and categories, including translation, website design, photoshop, article writing, accounting, and more.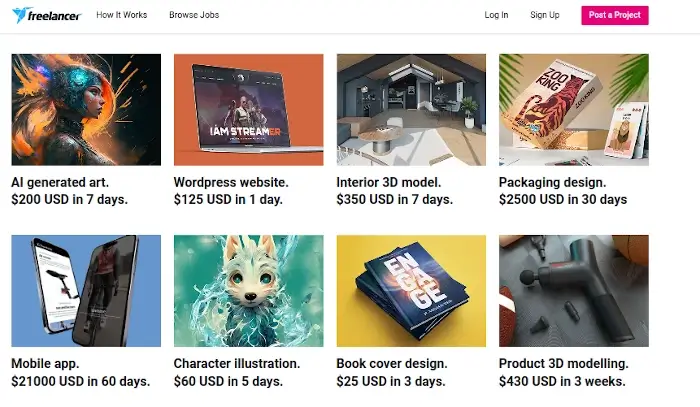 5. Guru
Guru is a flexible, secure, and cost-effective platform that showcases multiple portfolios of freelancers with different quotes and skills—for the clients to choose from.
Clients and professionals can easily post relevant jobs, making it easier for freelancers and employers to connect and collaborate with one another and get work done securely and flexibly.
The platform offers payment withdrawal methods, including Wire Transfer, PayPal, and SafePay.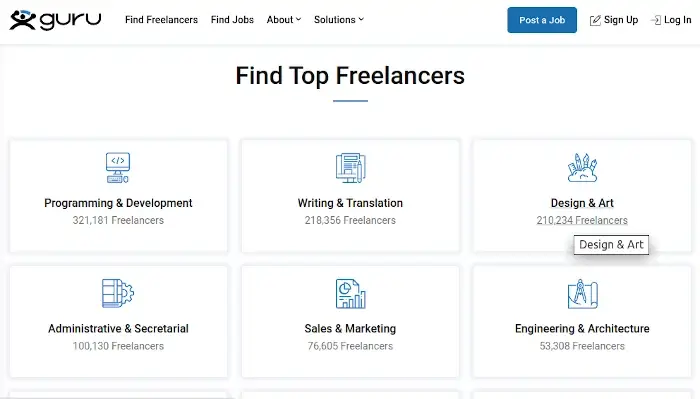 6. Flexjobs
Flexjobs is a flexible freelance platform that specializes in providing remote job opportunities, including part-time and full-time jobs, for a broad range of categories, such as writing, journalism, software development, and more.
The platform supports over 22,351 jobs with over 50+ career categories, offering a top-notch job search experience. Unlike many other freelance job platforms, Flexjobs don't display any advertisements on its website.
In addition, another crucial feature of this platform is that it scans and verifies the job lists and openings—filtering out fake and scam companies that post the jobs.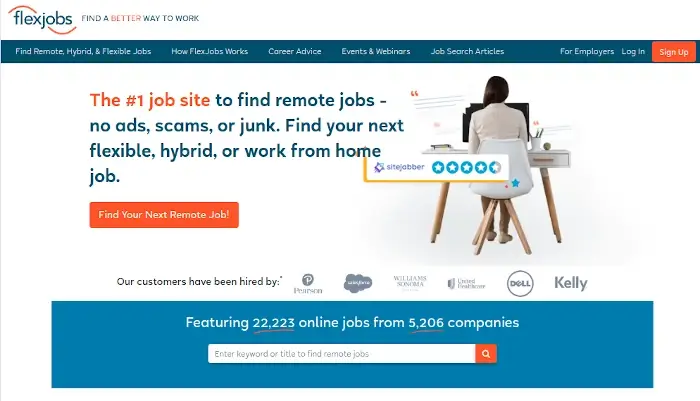 7. Toptal
Toptal is a freelance work website that helps clients find the top 3% of freelancers, connecting highly skilled and professional freelancers with the top industry experts.
The platform has a rigorous screening process, accepting only a few portfolios from the thousands of profiles they get each month.
If you're a well-established freelancer with a great portfolio and good enough experience, you can easily get accepted on the platform—which will allow you to build credibility and get hired by some of the top names, including Shopify, Airbnb, and Duolingo.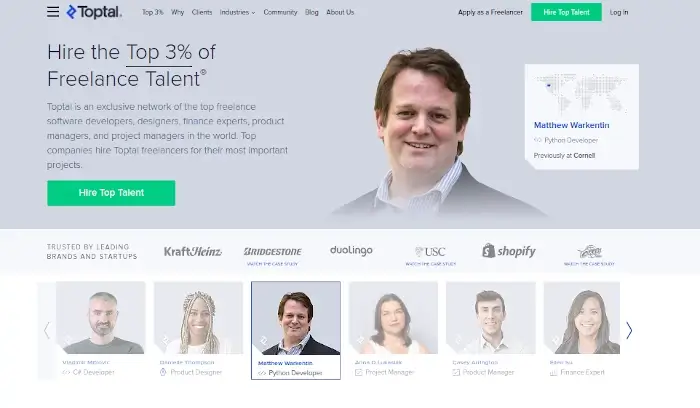 8. PeoplePerHour
PeoplePerHour is a freelance platform trusted by over 1 million businesses across the world, supporting a wide range of categories, including web design, logo design, web development, voice-over, drawing and illustration, content writing, and more.
It also showcases some of the top freelancers of the platform with their skills and takes on per hour basis, and a short description about themselves and the services they offer.
Some of the top companies, like BBC, CNBC, Forbes, and Business Insider, trust PeoplePerHour and have hired freelancers through the platform.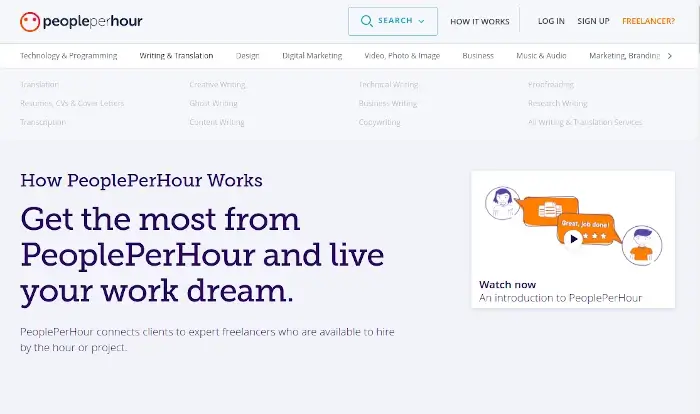 9. Jooble
Jooble is a freelance job aggregator that aggregates jobs from over 1,40,000+ global sources, including freelancing platforms, online job boards, corporate websites, classifieds, and social media platforms.
This unique interface makes Jooble different from other freelance work portals, eliminating the need for freelancers or clients to go through multiple platforms as it centralizes opportunities on a single portal.
Once you select a suitable job or search result, Jooble will redirect you to the respective source, being an aggregator.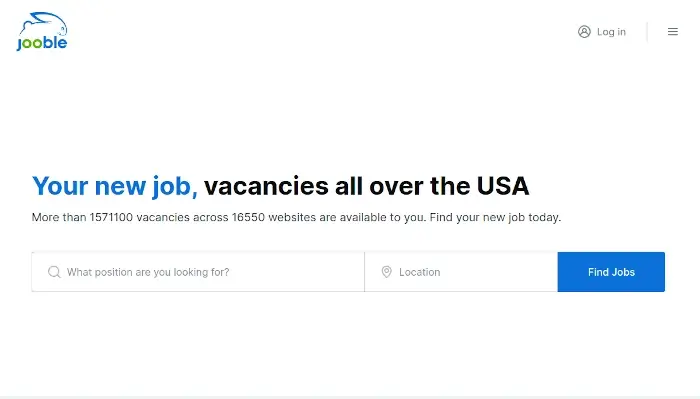 10. LinkedIn
LinkedIn isn't specifically a freelance work website but a comprehensive and the most popular job search site for job seekers and professionals across the globe.
All you need to do is create your account on the platform, and you can build and optimize your profile by mentioning your skills, uploading your portfolio and resume, showcasing testimonials from previous clients, and more.
Additionally, like any other social media platform, you can also post on LinkedIn about your recent work, certifications, the work you did for your clients and how it helped them, and more—building your authoritativeness and attracting more potential clients toward your services.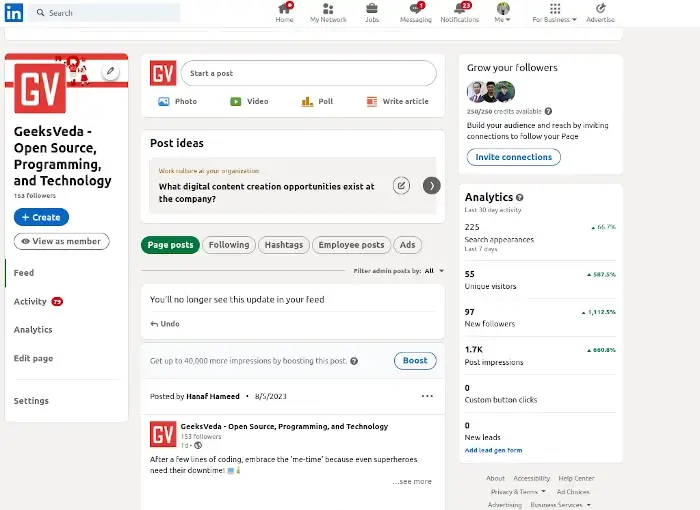 11. 99designs
99designs is a freelance work website specifically for designers—allowing businesses to browse several designers' portfolios and reach out to the ones they find to fit their requirements.
So, whether you're a web designer, graphic designer, sticker, poster, or book designer—99designs is the perfect place to share your design skills and services with the world and bag potential clients for your freelance business.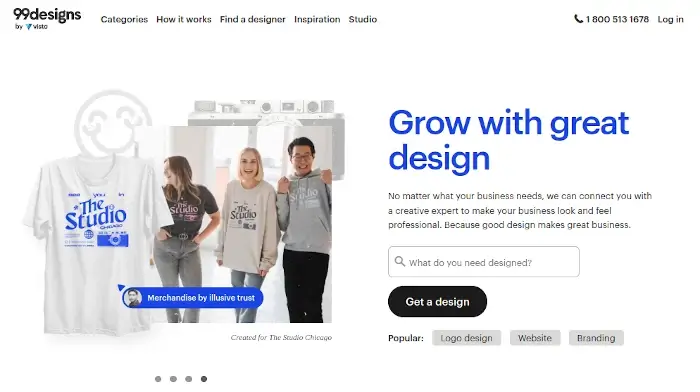 12. SimplyHired
Lastly, SimplyHired is a job marketplace that allows companies across the globe to post job vacancies for free. Being a freelancer, you can easily browse through the freelance job opportunities on the platform with its clean user interface and browse them based on your specific skills.
Right from marketing to finance, SimplyHired can help you find freelance work in multiple categories. The platform also lets you filter the job opportunities based on your city, ZIP code, or state to look for more relevant results.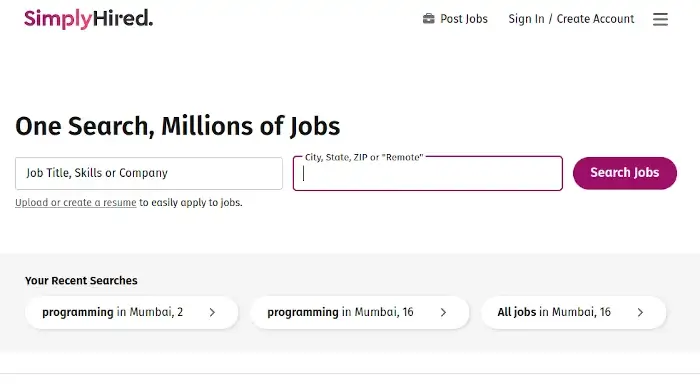 Conclusion
Freelancing is a field estimated to grow tremendously in the future, making businesses and companies hire more freelancers to get their work done from skilled and professional experts in the industry.
Finding freelance work doesn't have to be overwhelming and challenging. It's all about building the right portfolio and using the right platforms to make yourself recognizable.
So, whether you're an experienced freelancer with a solid portfolio or someone who's just dipping their toes in the sea of freelancing-check out the freelance work websites mentioned in this article to use and explore the ones that best suit your skills, work experience, and authority within the industry.
Happy freelancing!